Margaret & Stetson are a mother-daughter team, passionately dedicated to creating amazing digital content on social media.
Margaret founded the company in 2016 as a home organizer, specializing in relocations. In the fall of 2018, Stetson joined forces with Margaret to help continue to build her fast growing company. (Then called The Clutter Bee). In August of 2020, they rebranded, becoming Everything Envy. The company has since evolved from working one-on-one with client's and now focuses exclusively on digital content creation on Instagram, TikTok, Pinterest, and Amazon Live.
They have been fortunate to work with large brands like Costco, Amazon and The Container Store and have been contributing experts for home organizing articles in Bustle, Oregon Home, and Livingetc magazines.
The Everything Envy brand has built up a large audience all across the globe and is known for finding the best home and organizing trends.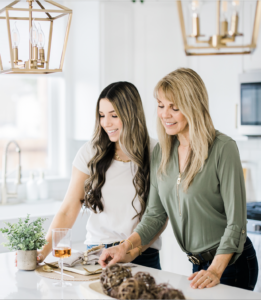 "Our passion is to inspire women to create stylish & organized systems with the latest trends & home finds!"
Frequently Asked Questions
How can I shop your videos?
You can shop right here in this website under our SHOP menu or through our Amazon Storefront in the "As Seen In Videos" folder. You can find the link to our storefront in the upper left corner of any page in our website. Look for the Amazon Smile!



I am a brand wanting to work with Everything Envy. How do I contact you?
If you are interested in working with us for brand collaborations, press, or speaking engagements, please go to our CONTACT page and fill out a COLLAB INQUIRIES form. We are excited to hear from you!




Where can I follow Everything Envy on Social Media?
You can follow Everything Envy on Instagram, TikTok, Pinterest, Facebook, and YouTube. You will find all of our social media links in the upper left hand corner of every page in our website. Thank you so much for following!
I am a Member of the ENVY family and want to email you. How do I get in touch with you?
Thank you for being a part of our ENVY family! If you want to reach us, please go to our CONTACT page and fill out a GENERAL INQUIRIES form. We will get back to you as soon as possible.

Do you still work in client's homes?
We have been so busy creating content for our amazing social media audiences that we no longer work in client homes. We do however have our Everything Envy Pantry Class. It's only $47 and we show you how to stylishly organize your pantry. You'll find it under our list of SERVICES.
Do you earn a commission if I purchase something through your links?
We appreciate your support SO very much! If you make a purchase through our affiliate links, we do get a small commission which helps us continue to create great content.