We LOVE the look of a pretty pantry. Who doesn't? But when it comes down to the nitty gritty of choosing the right organizing products, that's where things get messy. (No pun intended)
You'll hear home organizers say, "Choosing the right organizing products is the key to success!" And it is! But knowing what works is not always easy. There is often a lot of trial and error when trying to decide what to get but one thing to keep in mind is quality.  The pantry is one of those places where it pays off immensely to purchase good quality products. Yes, they will cost a bit more but the investment will be worth it as they will last for years.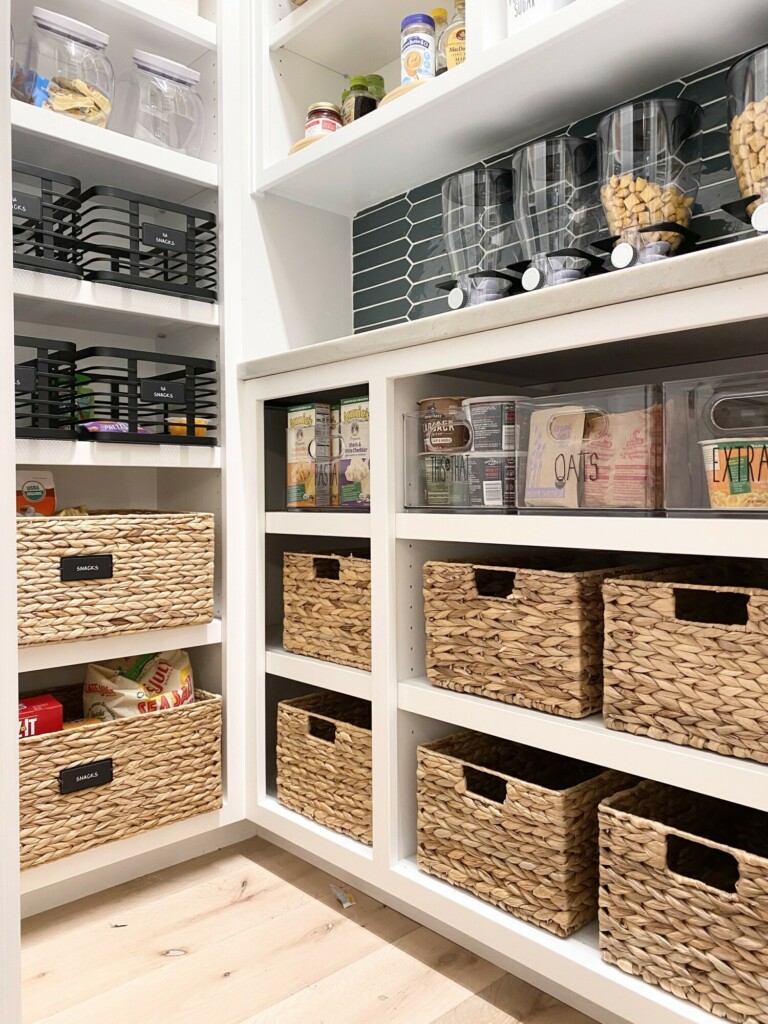 Before we talk about what organizing products work best in pantries, we have a few strategies for you to help you "plan before you buy".
Decide how you want your pantry to look? We advise choosing organizing products that reflect the overall decor in your home. No matter if your style is farmhouse, minimalist, contemporary, or traditional, there is something to complement your overall decor. Think of your pantry area as an extension of your kitchen.

Measure your pantry shelves! This important little step is often overlooked but believe us when we tell you, it will save you a lot of frustration if you do a little planning ahead of time. Record the depth and length of each shelf plus the height so you'll be armed and ready when it's time to order your products.
Think about and make a list of the types of things you will be storing in your pantry. Do you need a place for baking items? How about grab-and-go snacks? When organizing a pantry, we like to use as much containment as possible.  Having containers for things like pastas, snacks, and boxes items makes it easy to find what you're looking for when preparing a meal.  And, putting away groceries is a breeze.  Cereals, when stored in clear, airtight containers, shows you at a glance when it's time to replenish. Flours, grains, nuts, and dried fruits not only stay fresher when stored in glass canisters but they also look amazing on pantry shelves!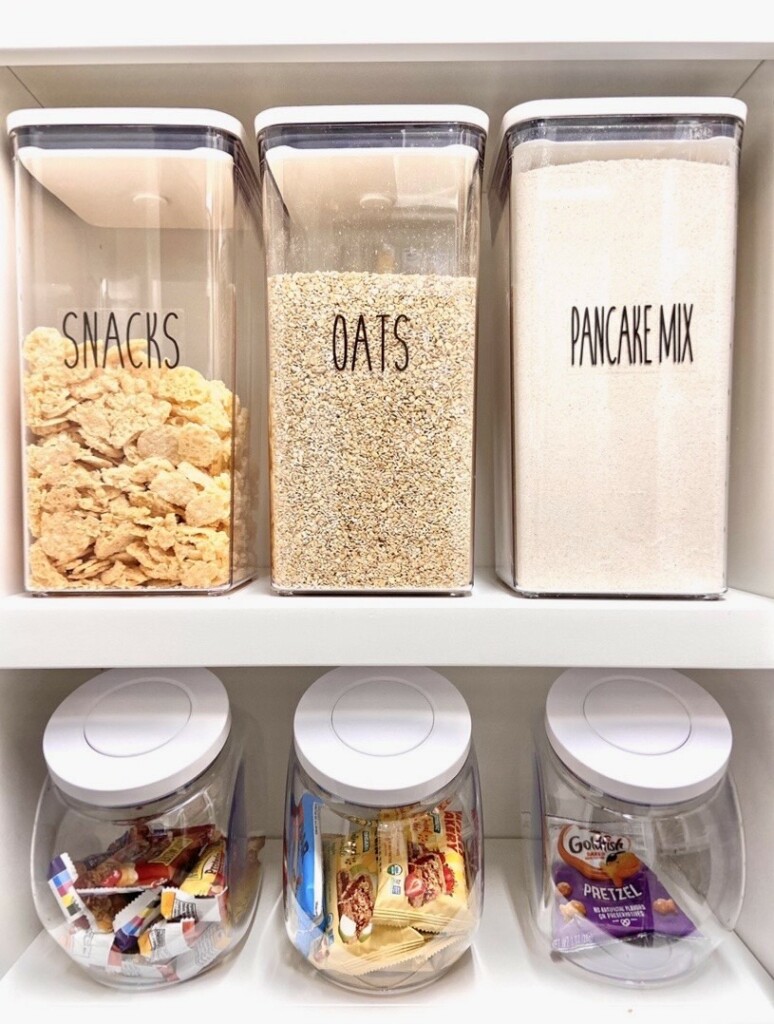 As you plan, think in broad categories. The goal is to make things easy and one way to do that is keeping "like items with like items" in large bins or baskets. For example, keep all your pastas together in one basket, or all boxed dinner items together in a large bin. If you like to bake, you may find it helpful to store all of your baking essentials together in a bin so when it's time to whip up a batch of your favorite cookies, you'll have what you need all in one place.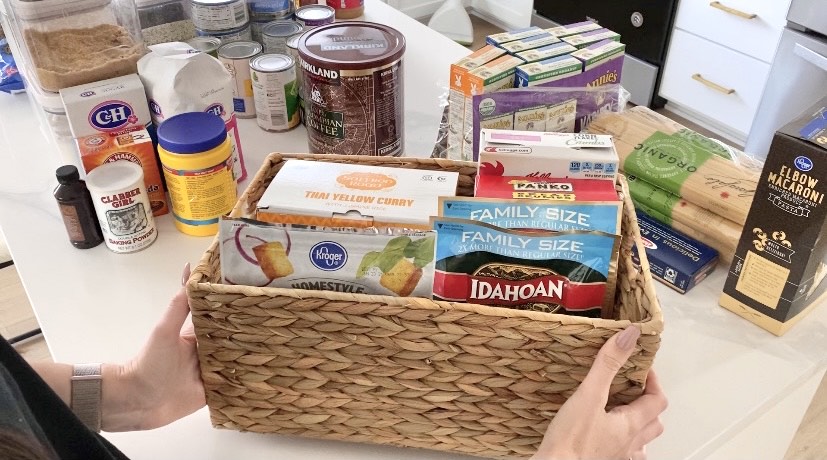 Another item you'll want to add to your shopping is supplies for LABELS!  Labeling is super important and is the secret for maintaining and keeping your pantry organized for the long haul. For labeling bins and baskets, we recommend using a clip on label holder. They come in many styles and can be interchanged if you ever need to change things up.
As far as the actual label itself, there are SO many styles! We like to use pre-printed, stick on labels because they are just so dang easy! We also use a Cricut Joy to make labels. If you have one, then we don't need to tell you how many label options there are! But really, if you have lovely penmanship you can write your own!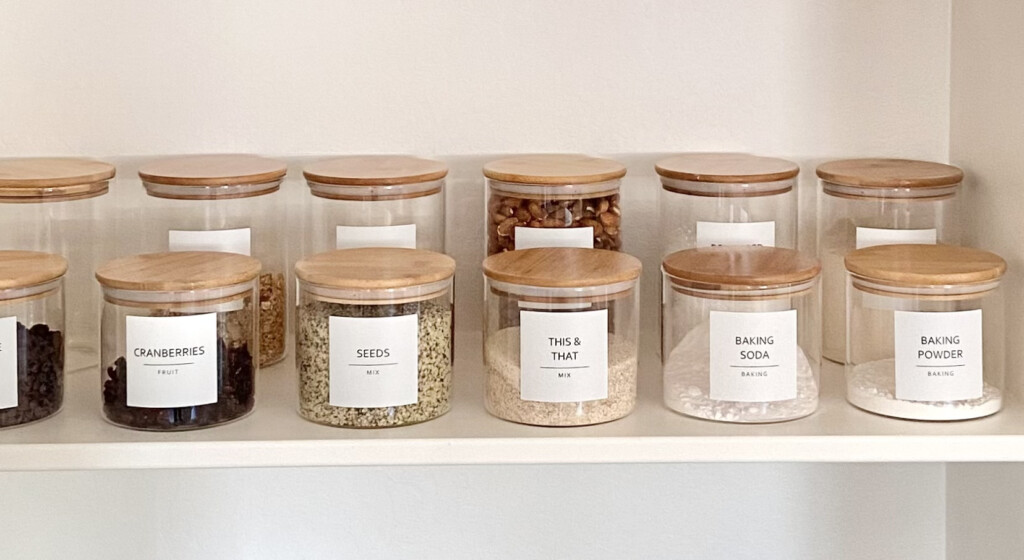 Now onto the organizing products that work best for pantries!
Choosing the right products for organizing a pantry is easier than it may seem and it doesn't need to be over complicated. We found through our years of experience, sticking to just a few key products provides a lot of flexibility for change. Pantries evolve over time. Food preferences change, kids grow up, and the pantry must be able to adapt to the needs of the family.
Bins and baskets, turntables, cereal dispensers, airtight canisters in either glass or plastic, open front stackable bins, stair-steppers for cans, and labels are really all you need to create a beautifully functioning pantry!
When choosing your products keep your color choices simple. There's nothing wrong with mixing darks with lights or metals with woven for example but choose all matching colors and styles where ever you can to create a clean and cohesive look.
The pantry below has only 8 organizing products, not counting the label bin clips. Notice how we've kept likes-with-likes for laying out the products.  The pantry has a nice balanced look. All the hyacinth bins are together on top, all the turntables are together on one shelf, and all the metal baskets are on the bottom two shelves. The mindset is often to keep things on pantry shelves where they might seem most convenient. In actuality, this where labels come into play. Using labels, especially on your bins and baskets allows you to put items wherever looks best in your pantry.
We believe your pantry can look amazing and function beautifully!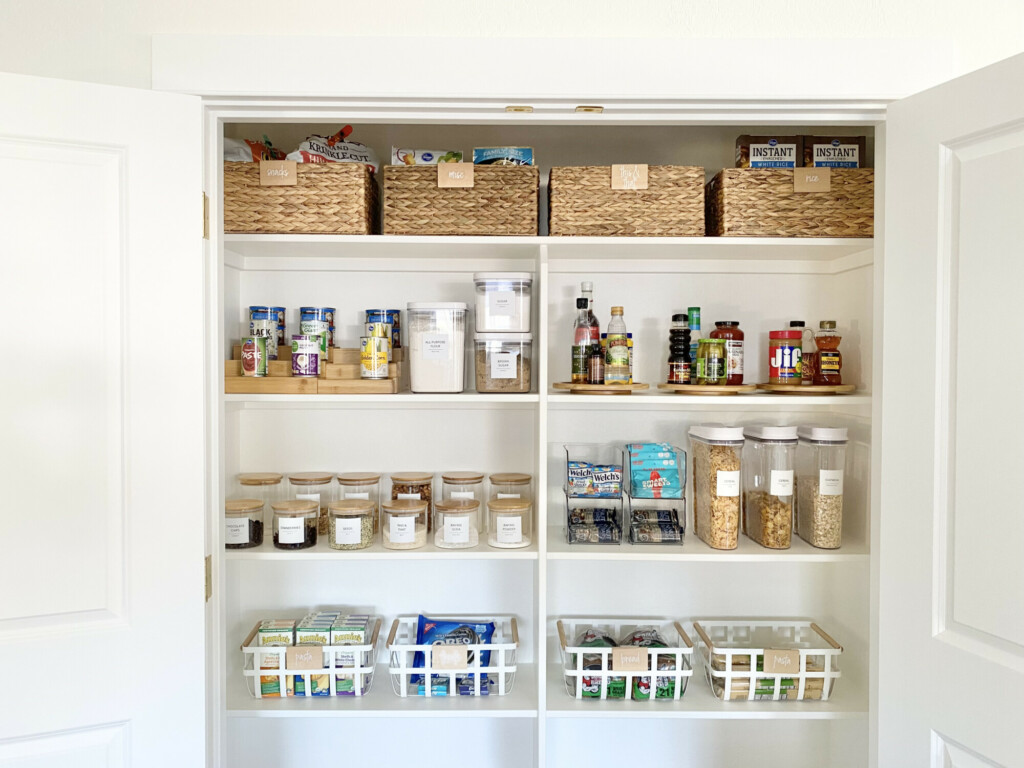 Shop the look for this pantry!
More Pantry Organizing Products
Bins for storing boxes items, chips, pastas, canned items and so much more!
Clear bins for when you need to see what you have at a glance
Turntables are perfect for oils, vinegars and other non-perishables
Airtight containers for cereals and other dry ingredients
Stackable and open front bins are perfect for grab-n-go snacks
Stair Steppers for canned goods & spices
Have Fun Making YOUR Pantry Beautiful!
xo, Margaret & Stetson