We hosted a Mother's Day brunch for all our friends and family and the star of the show was definitely our tablescape!! Need some tablescape inspiration? QVC had the BEST stuff for our Mother's Day event, we had to share it all with you!!
Creating a cute tablescape is a fun and rewarding activity that adds an extra level of charm and style to your dining area! With some creativity, attention to detail, and QVC, you can create a tablescape that will impress your guests and make your meals more enjoyable!
Here are some tips on how to make your own tablescape!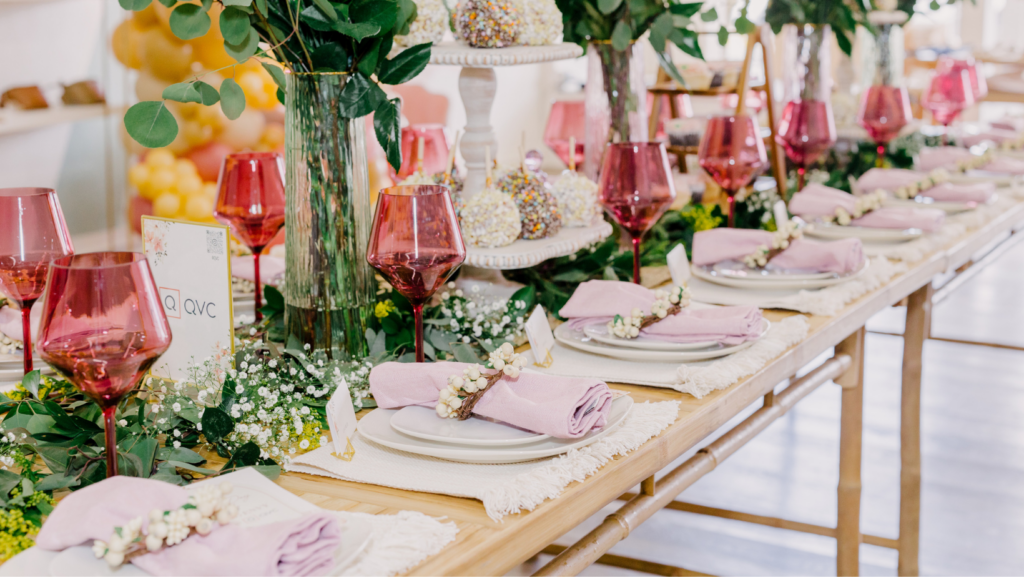 First up… choose a color palette!
Decide on a theme or color scheme that you would like to use for your tablescape. This will help guide your choices for the rest of the design elements. We stuck with green, shades of pinks, white, and some neutral tans.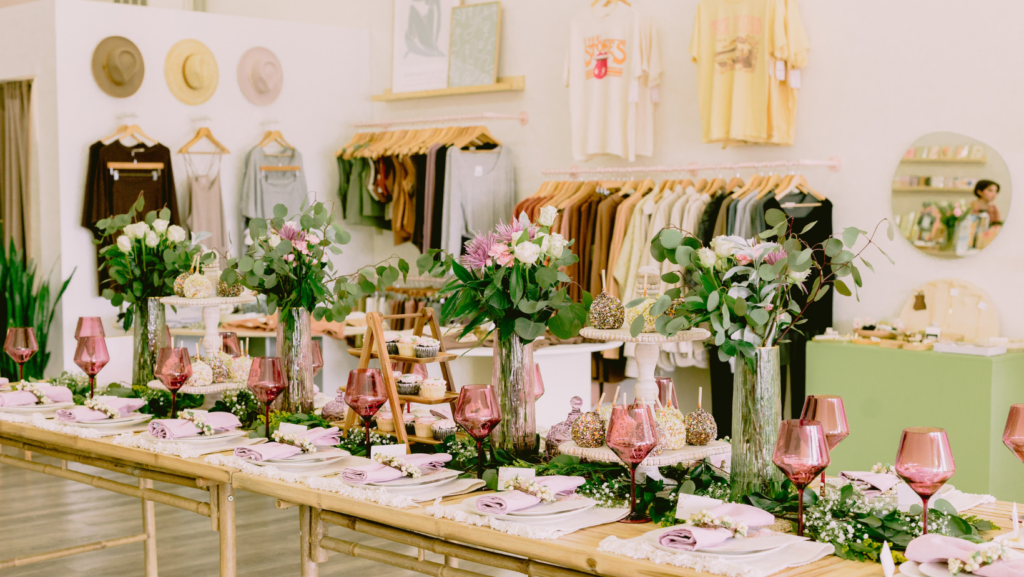 Next, choose a table runner!! We had a huge table, so this 12″ x 40″ Seagrass Table Runner was perfect. It adds visual interest and texture and really helped set off the greenery!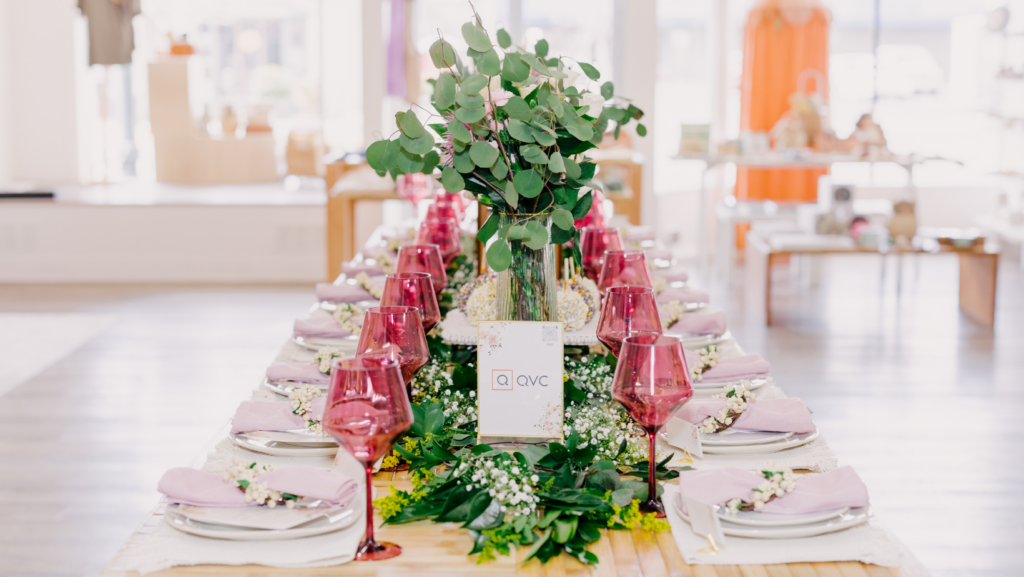 Choose flatware and napkins that coordinate with your dinnerware, table linens, and color scheme. You can choose a set that matches or complements the colors and patterns that you've chosen.
These Chambray Napkins were elegant. There was so much going on at our table, we wanted our napkins to be simple! Plus we wanted to use these Berry Napkin Rings to pull some greenery out from the table runner. The pink napkins were a perfect base for the napkin rings!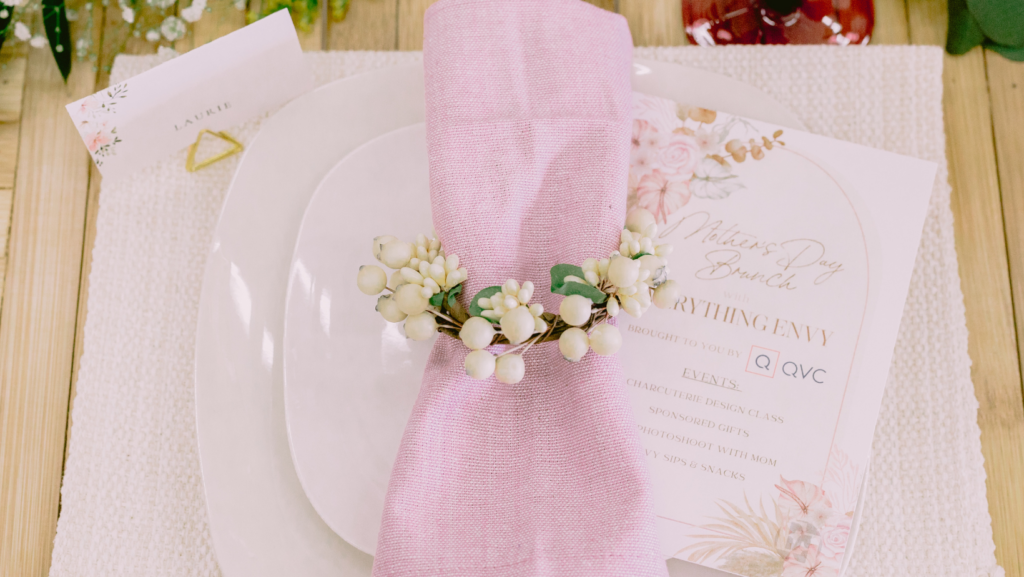 Everyone loved using the table during our charcuterie class!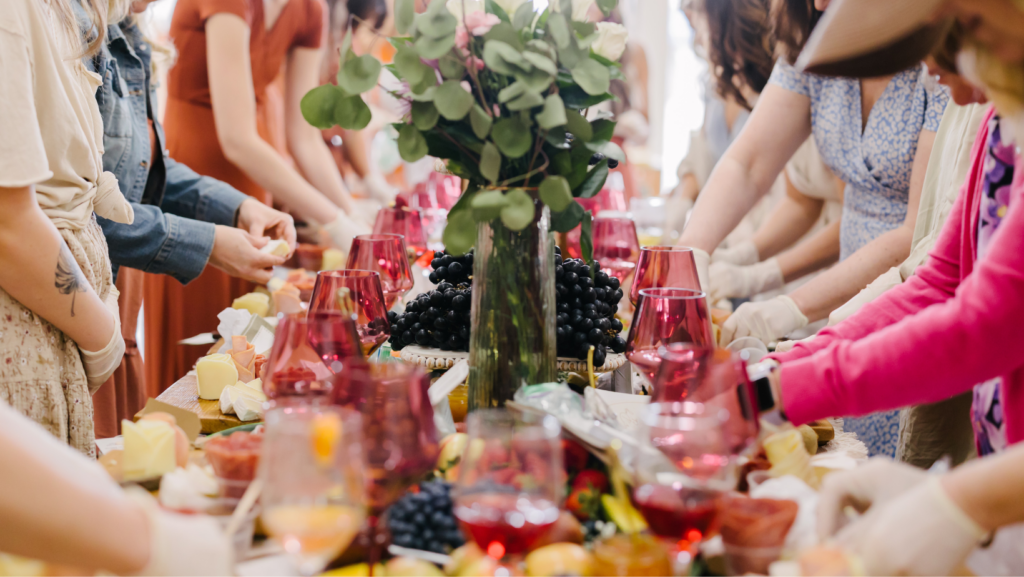 Every tablescape needs a nice vase! We went with this ENVY-Gold Rimmed Glass Vase. The greenery in this vase adds some height!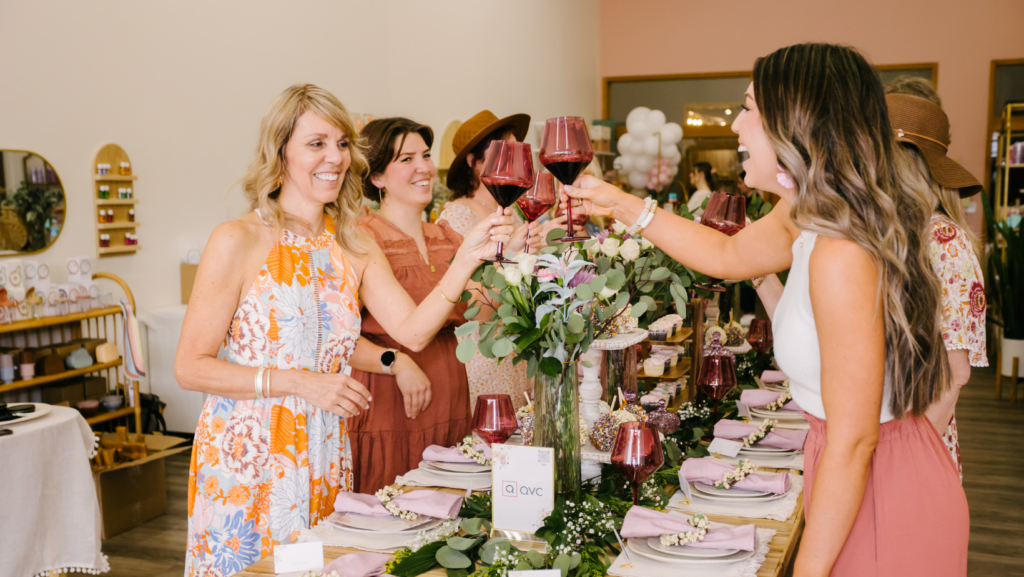 Pro tip: If your decor ever needs an extra "oomph" try placing items of different heights throughout your tablescape!!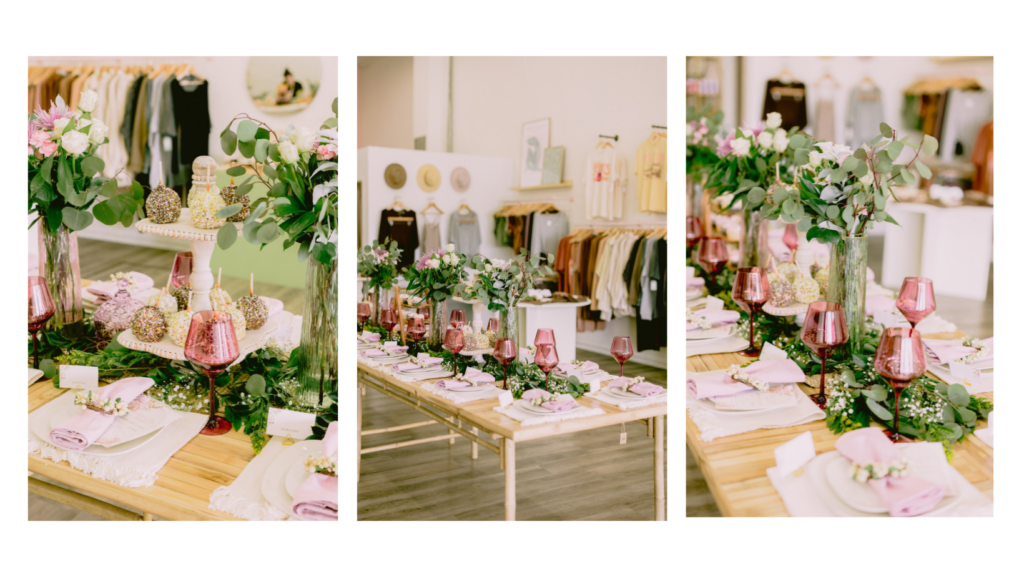 Placemats are a great base layer to your tablescape to add texture or even a pop of color!! These textured, fringe placemats from QVC were adorable.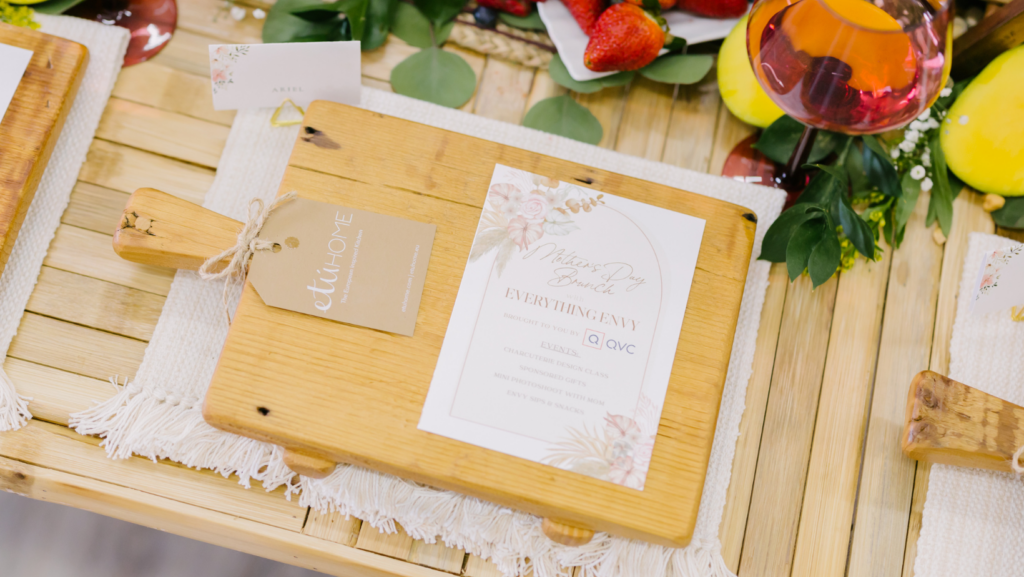 Select your dinnerware, such as plates, bowls, and glasses, that complement your table linens. Consider the shape, color, and style of your dinnerware to ensure they fit with your theme!
These Hammered Finish Platters looked beautiful on our tablescape. And this Stainless Steel Wine Chiller was not only aesthetic but also useful for keeping our wine chill!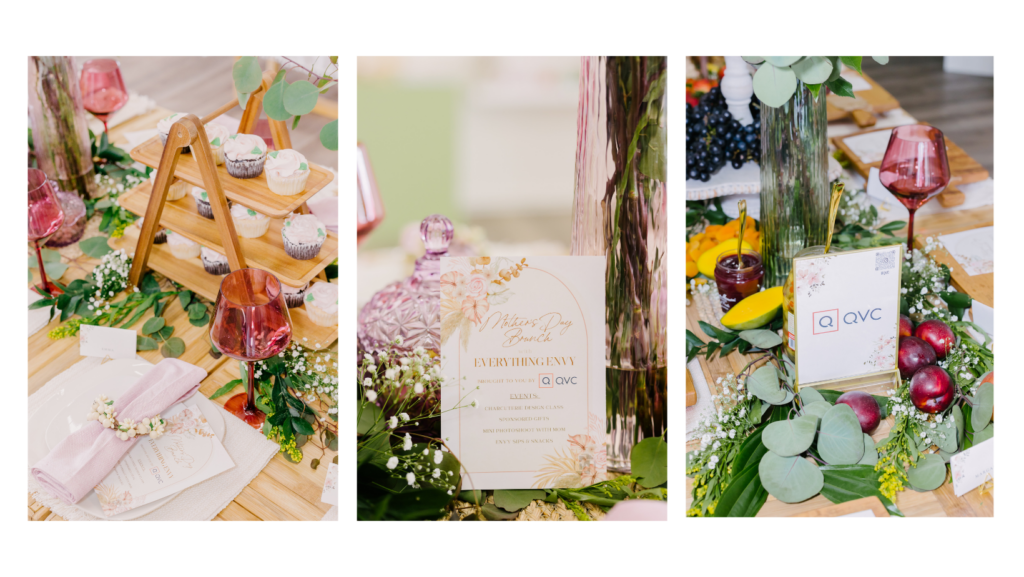 These Vintage Embossed Candy Jars held these Ruby Royale & Creme Brulee Almonds! They were some of the cutest additions to our tablescape. They added a beautiful texture and color sitting among the greenery!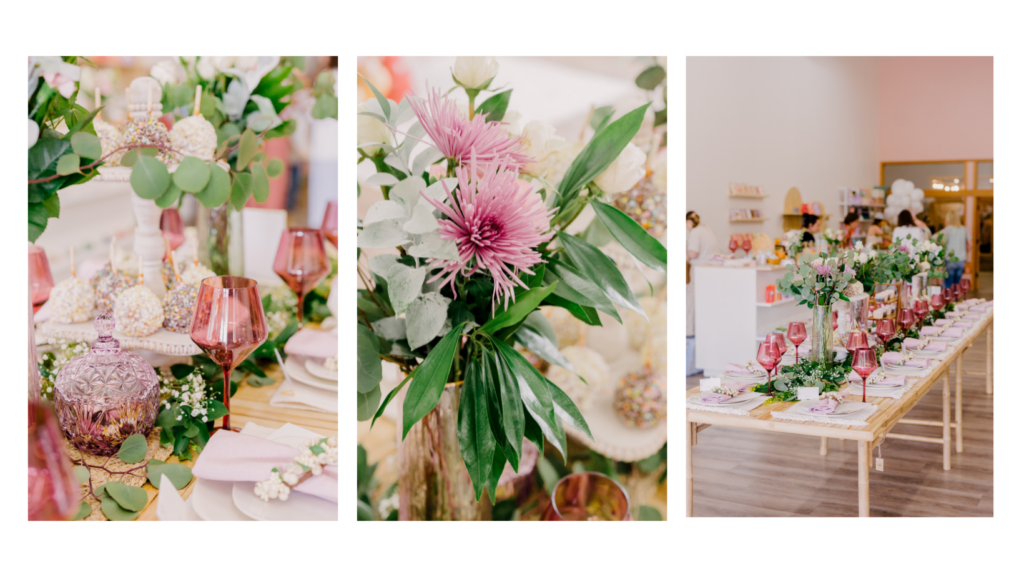 This white Wooden Two-Tier Server held apples, but it would also be perfect for holding other snacks or finger food!! We love the detail on the edges.
For a different color and texture, we like this 3-Tiered Serving Ladder that we put cupcakes on!
Including various types of serving trays, like this Lazy Susan, adds dimension and creates a more interesting display.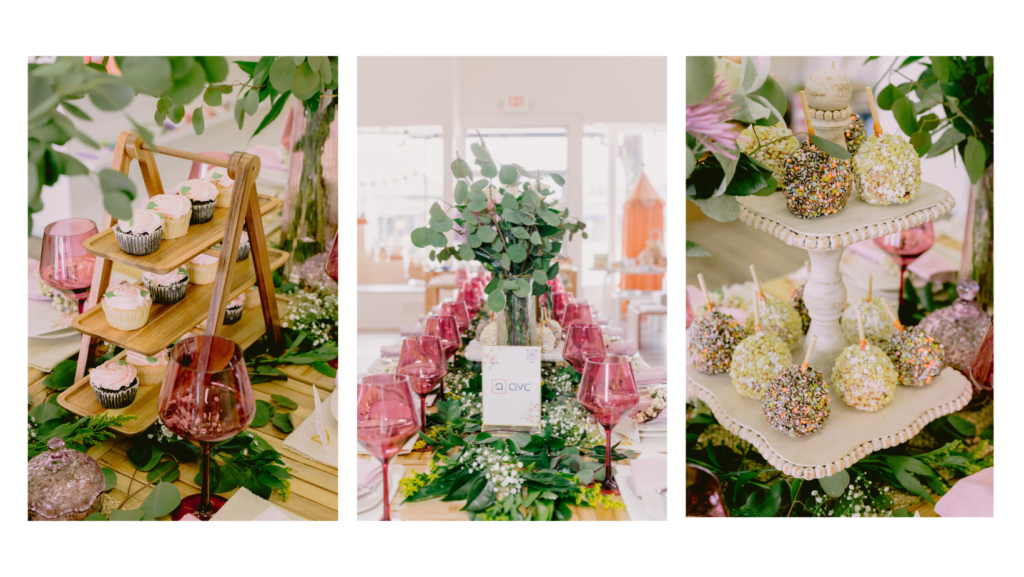 Every tablescape needs snacks!
These sweet snacks were a hit with our guests!! Not only were they delish but they added pops of color, texture, and patterns to our tablescape.
You have to try these Double Drenched Spring Pretzels. The perfect combo of sweet and salty! These Spring Caramel Apples were not only yummy but they were an aesthetic, unique touch to our tablescape
This Dessert Sampler Pack included these BEAUTIFUL cupcakes — trust us, they were as yummy as they looked!!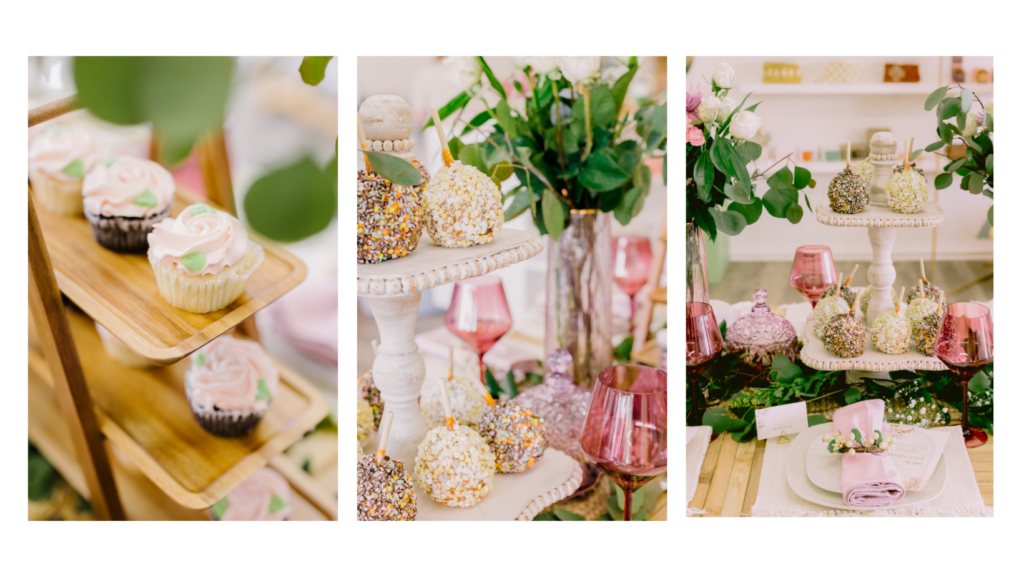 Creating a cute tablescape adds a touch of personality and style to your dining area or event! It can also create a welcoming and inviting atmosphere for your guests. Everyone at our Mother's Day brunch complemented this table!! With the wide variety of products available from QVC, you can easily put together a unique and charming tablescape.
xo,
Margaret & Stetson