Do you have an upcoming bridal shower to plan?
We are excited to share how we made Stetson's bridal shower one of the most memorable events we've ever attended.
Planning a bridal shower can be stressful and overwhelming. But it doesn't have to be. Keeping your thoughts and ideas organized is the key to success!
A little bit of planning goes a long way and the nice thing is, you don't need any special tools to stay on task and get things done. You can plan the entire event on your phone.
Here are a few planning tips:
As soon as you've decided on the date and a venue for the shower, take the time to jot down your thoughts. This is usually the time when those initial creative juices begin to flow and you'll definitely want to capture them.
Use the "notes" feature in your phone to create lists for games to play and what you'll need for those games; food items to purchase and what you'll need for display; what vendors you need to call; what to bring from home, etc.
Your phone calendar is a great tool to help you remember when deposits have to be made or when flowers need to be ordered so they arrive on time.
Search for and use local vendors for furniture rentals, balloon bouquets or catering. Be sure to get your deposits made and the date locked in and confirmed.
Send invites out 4-6 weeks in advance for local guests. If you're expecting long distance guests, 6-8 weeks should be sufficient time to make transportation and lodging arrangements. Remember to request RSVP with a "No later than" date.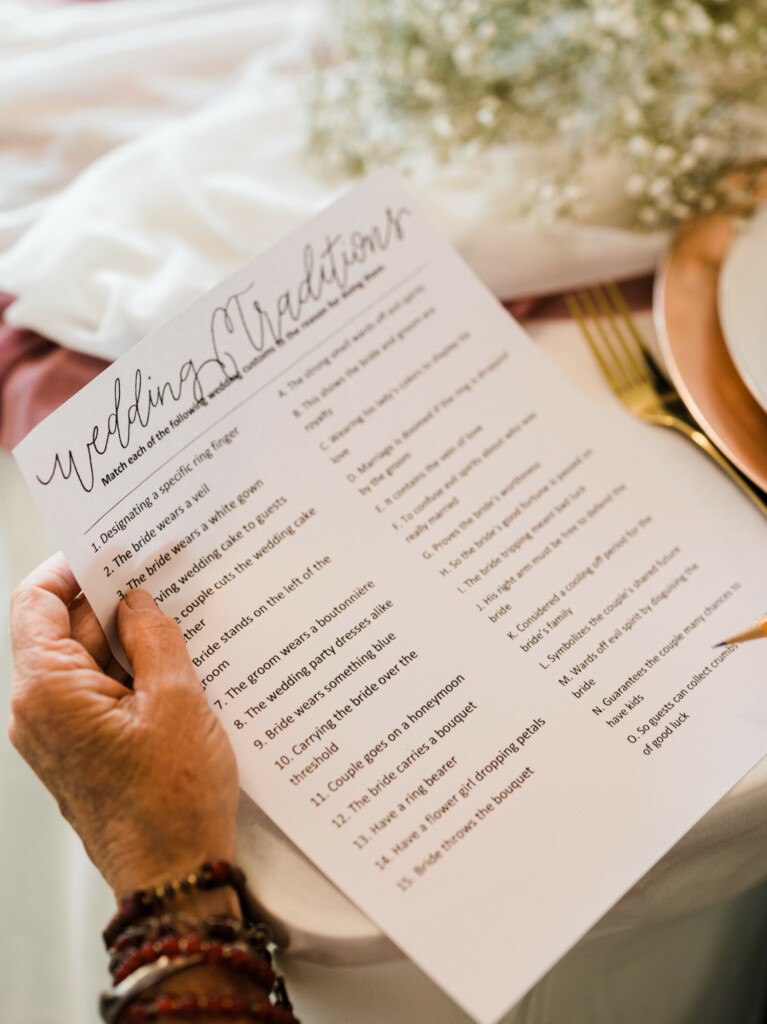 Games are always fun to play at bridal showers.
Plan them well in advance and purchase any necessary supplies. Having prizes for the winners makes it even more exciting for those competitive guests. Remember to get the bride's input for any games that require couples' trivia answers.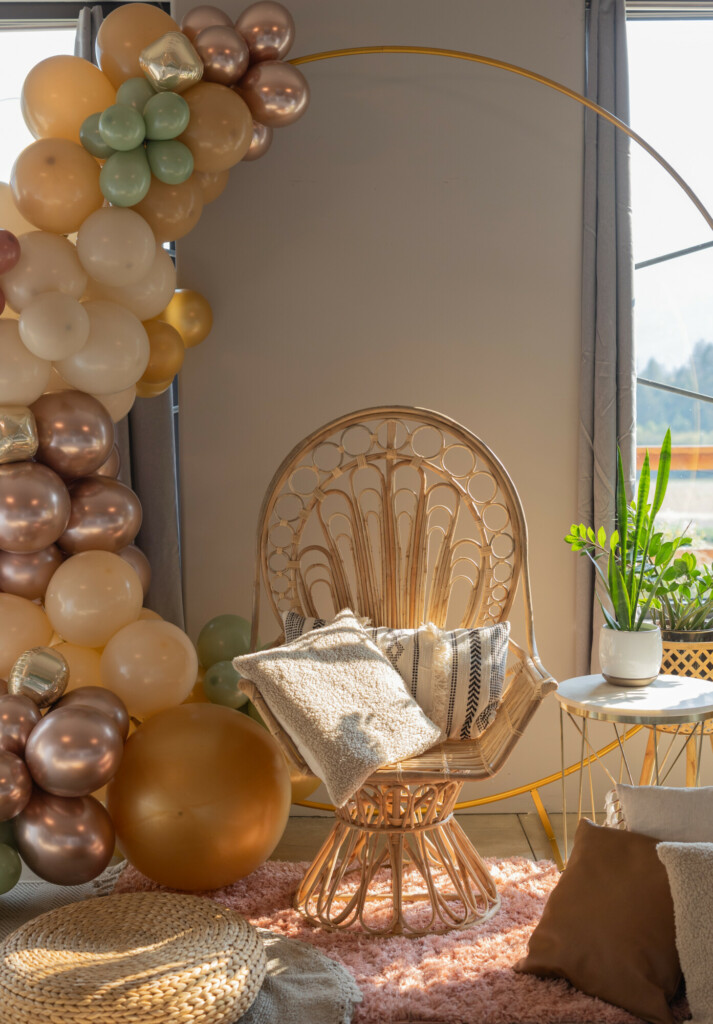 Decorating for a bridal shower is the fun part!
We created a lovely place of honor for Stetson to relax in and open her gifts. We accomplished this with a fabulous balloon ring from a local vendor, a peacock chair, some pillows and rugs, fresh flowers and potted plants, and a pouf for Mother-of-the-bride Margaret to sit upon when Stetson was opening her gifts.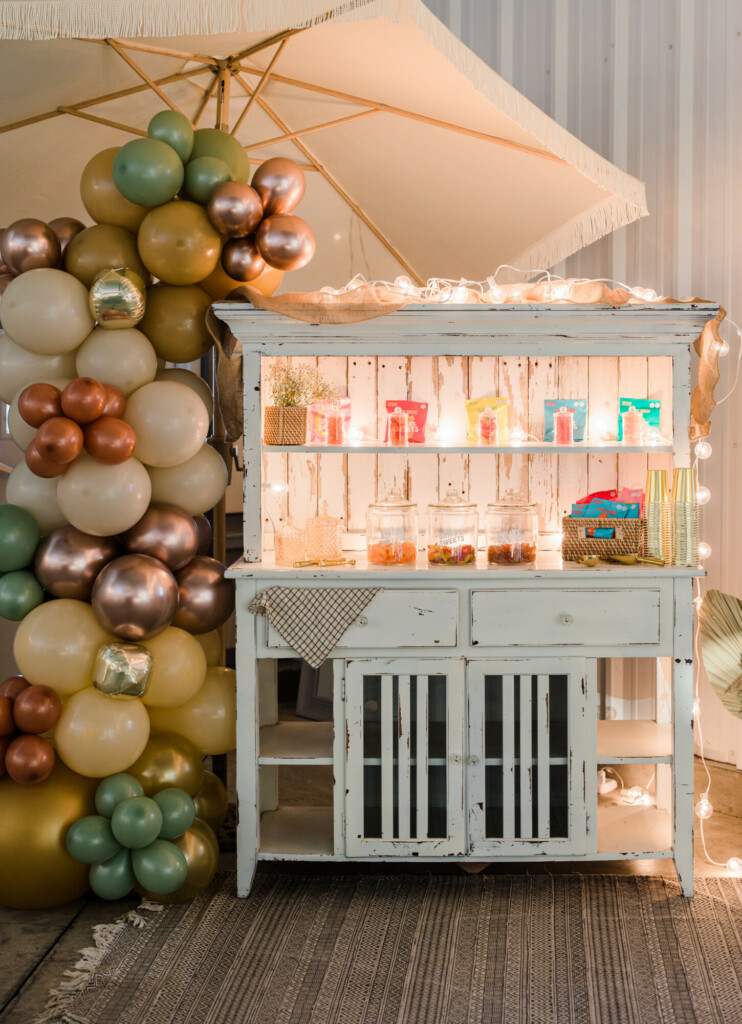 Why not a candy station?!
To add a little more fun to the event, we added a candy station filled with SmartSweets, our favorite low sugar, low calorie candy. And of course we had to add touches of ENVY gold here and there with gold scoops, gold tongs, and gold cups for our guests to scoop their treats into. Glass jars, baskets, fresh flowers, and lights help make the station even more inviting!

Goodie boxes for your guests.
Our guests loved seeing thoughtfully filled gift boxes on their place settings when they arrived! We gave each box a personal touch by adding a few of the bride's favorite skincare items and treats.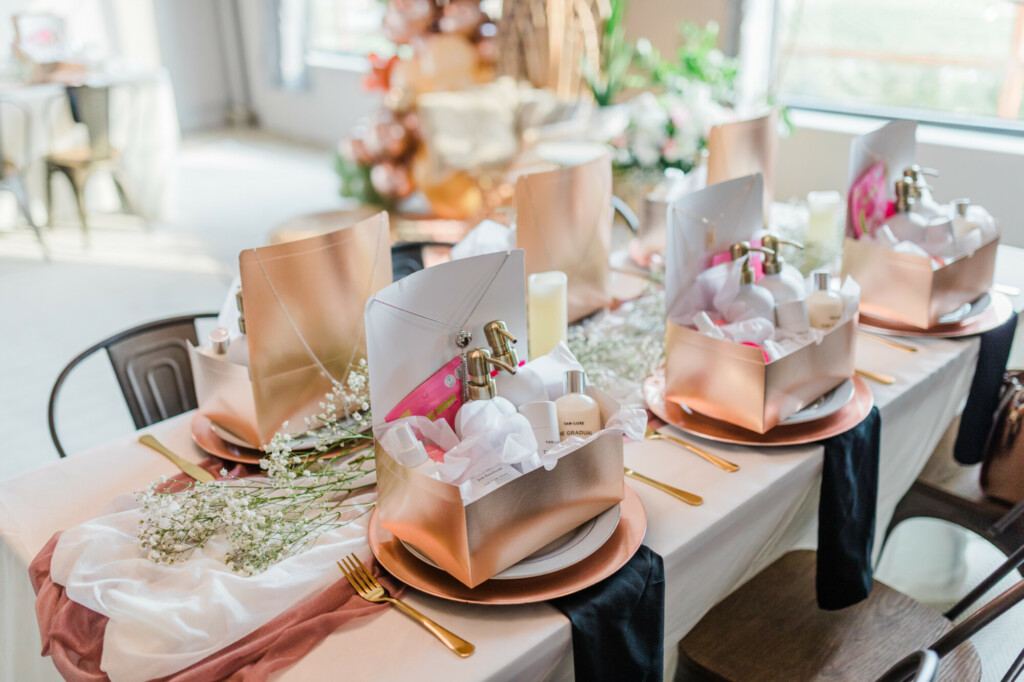 Keep your table decorations simple.
Less is often more when it comes to table decor. We created this stunning tablescape with sheer table runners in two different colors, battery operated candles, and a few pieces of baby's breath. The look was exactly as we wanted it to be; simple yet elegant.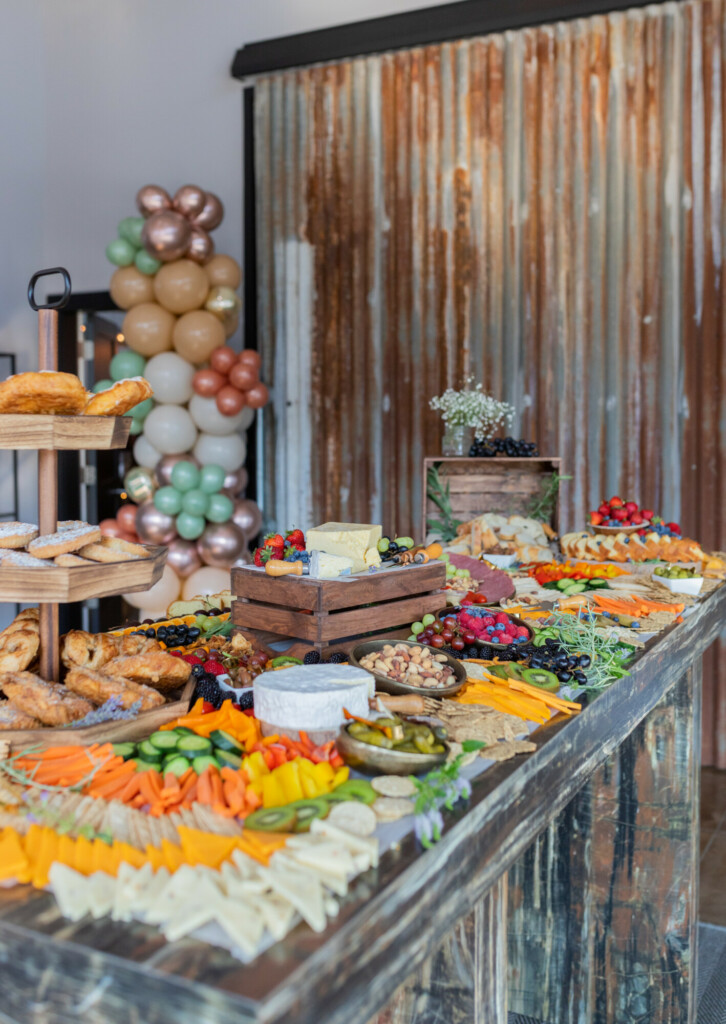 Charcuterie tables are perfect for bridal showers!
You don't have to pay someone to create a fabulous charcuterie table. You can totally do it yourself for a fraction of the cost!
Tips for creating a beautiful charcuterie table:
The day before the event, prepare as many charcuterie items as possible and store them in ziplock bags or containers. Washing, cutting and slicing the food items in advance will cut down on the time it takes to build your charcuterie table.
Buy blocks of cheese and display them as a whole, such as a French Brie, or slice cheese 1/8″ or so thick, then cut into triangles.
Cut veggies such as carrots and bell peppers into 3-4″ lengths keeping them fairly uniform in size.
Start building your charcuterie table no more than 1 hour before your event start time so everything will look fresh. This is a good project for multiple people as there is no right or wrong way to set one up. Your goal will be to have your charcuterie table completed at least 15 minutes before your first guest arrives.
Cover the entire table with parchment paper before starting to build your charcuterie.
Use small crates, tiered or raised plates, or even blocks of wood to create different levels on your table. Charcuteries look best when there are varying height dimensions.
Lay out the prepared food items in curved lines with overlapping edges, making sure everything touches one another.
Mandarins, kiwis, and cucumbers add varieties in textures when sliced in the rounds. Leave skins on and either overlap their edges in a curved line on the table or display them pile small piles with cheese, crackers or other veggies around them.
Ready made pastries and pound cakes look divine when displayed on 3-tiered stands or blocks & rounds of wood.
White, square ramekins and uniquely shaped or colored bowls are perfect for olives, cocktail pickles, and nuts.
Fruits such as grapes, blueberries, raspberries and strawberries add texture and pops of color throughout.
Freshly sliced deli meats can be folded and fanned out on a tray and garnished with fruits and nuts.
Packaged crackers and sliced baguettes look lovely mixed into the alternating layers.
Strands of fresh herbs, mint, or lavender adds a bit a greenery to your table.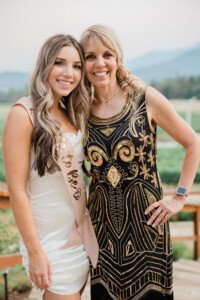 Planning ahead and staying organized before the event, will allow you the time to relax and enjoy the bridal shower too!
Shop The Look For This Bridal Shower!
The Bride's Place of Honor
Our Bridal Shower Outfits
Leave us a comment if you're planning a bridal shower!
xo, Margaret & Stetson