During Stetson's childhood, we had an annual tradition of hosting a massive Halloween party. Since Stetson brought this tradition back this year, we thought we'd share some tips on how to plan a Halloween party for all ages that your friends will never forget!
Shop Halloween party supplies & decor here!
Our Halloween parties began as small gatherings, but over the years, they evolved into large events with up to 100 people! The planning for this spectacular celebration would start as early as July or August. One of the defining features of our Halloween soirees was that every guest was required to come dressed in creative and imaginative costumes.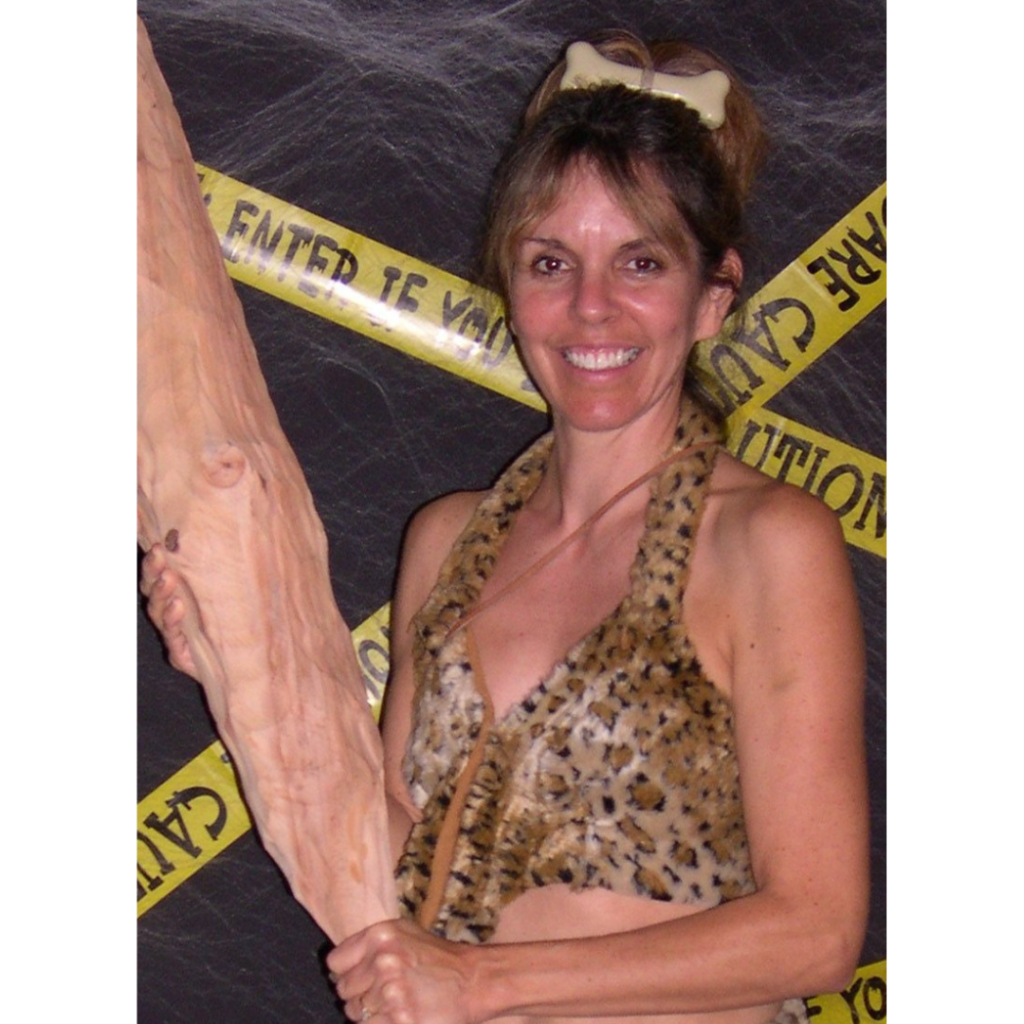 Beyond the costumes, we incorporated a charitable element into the Halloween parties. We organized a food bank drive and asked our guests to contribute donations. It always felt good to give back to our community!
Karaoke became a cherished tradition at our parties, allowing our guests to showcase their singing talents in the spirit of the holiday. We also asked everyone to bring a spooky potluck dish, which often featured both eerie and amusing names. One year, a friend of ours brought a cake presented in a brand-new litter box, complete with frosting that resembled cat poop – a gross yet surprisingly delicious surprise!
And what's a Halloween party without a costume contest?? As the moment arrived to cast votes for the best costumes, we would play the iconic "Monster Mash" song, and the participants would parade around the house in their costumes.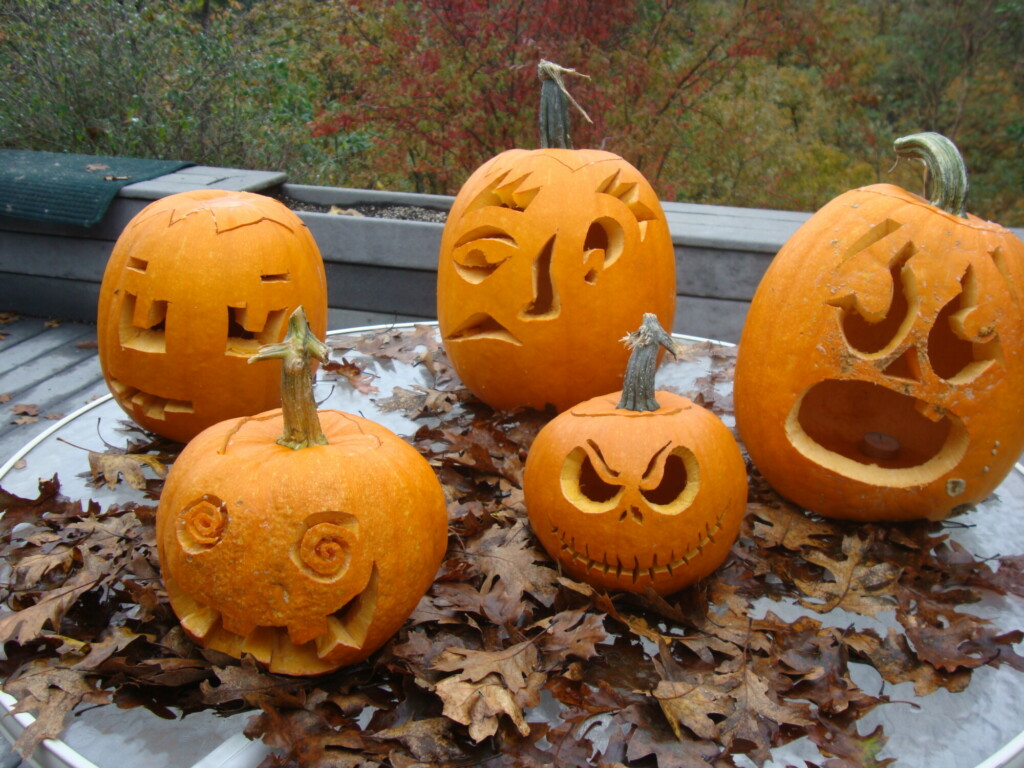 Rave Beyond the Grave
Stetson revived our tradition with a party this year called "Rave Beyond the Grave." We've had some Halloween parties, but this marks the first year we returned to the grand scale of our Halloween parties from the past! We had about 80 people show up! In keeping with our tradition, it was a potluck-style gathering where guests brought a spooky or scary Halloween dish to share.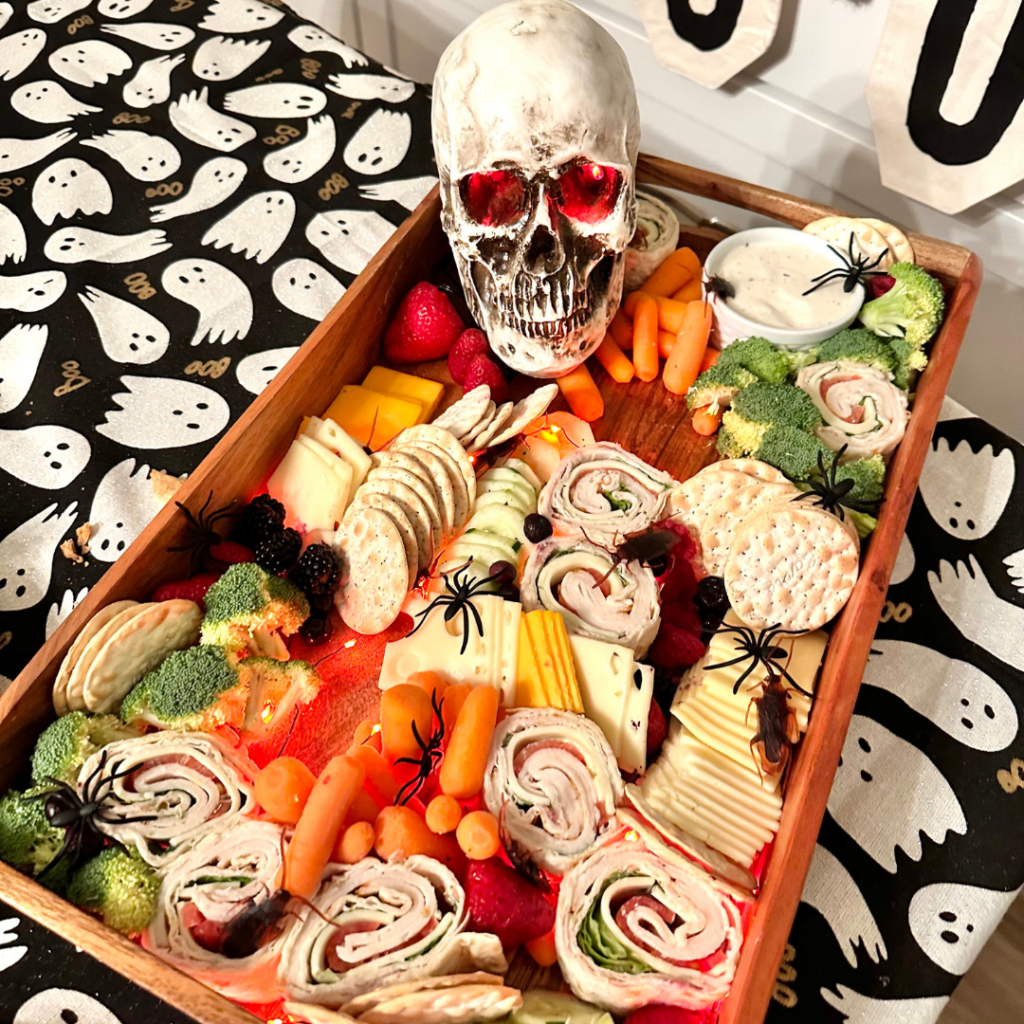 Of course, we had a costume contest, and we found custom skeleton trophies for adult, couples, and kid winners. Everyone voted for their favorite costumes and it was so fun to see how creative they all were!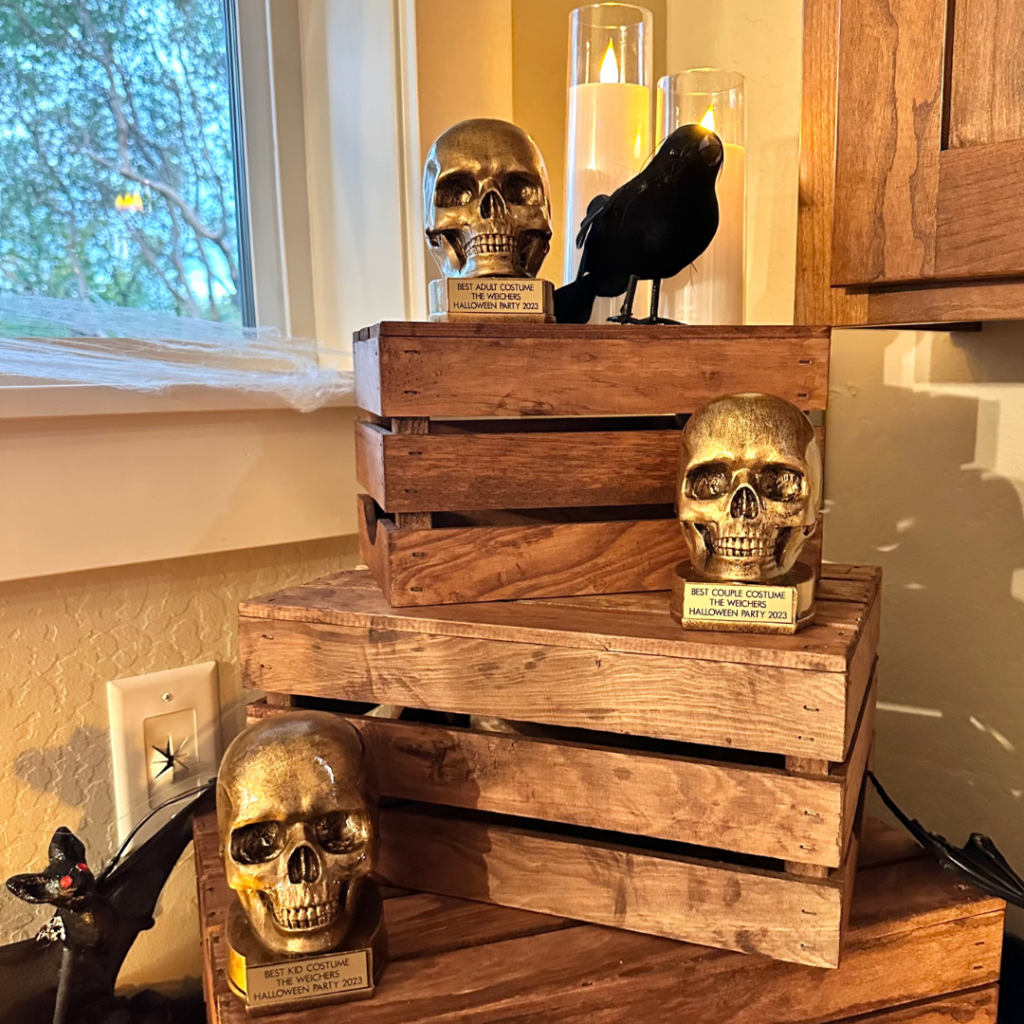 Outside, we set up a massive 20×20 foot projector screen to play a scary movie. The yard was decorated with a graveyard and skeletons too.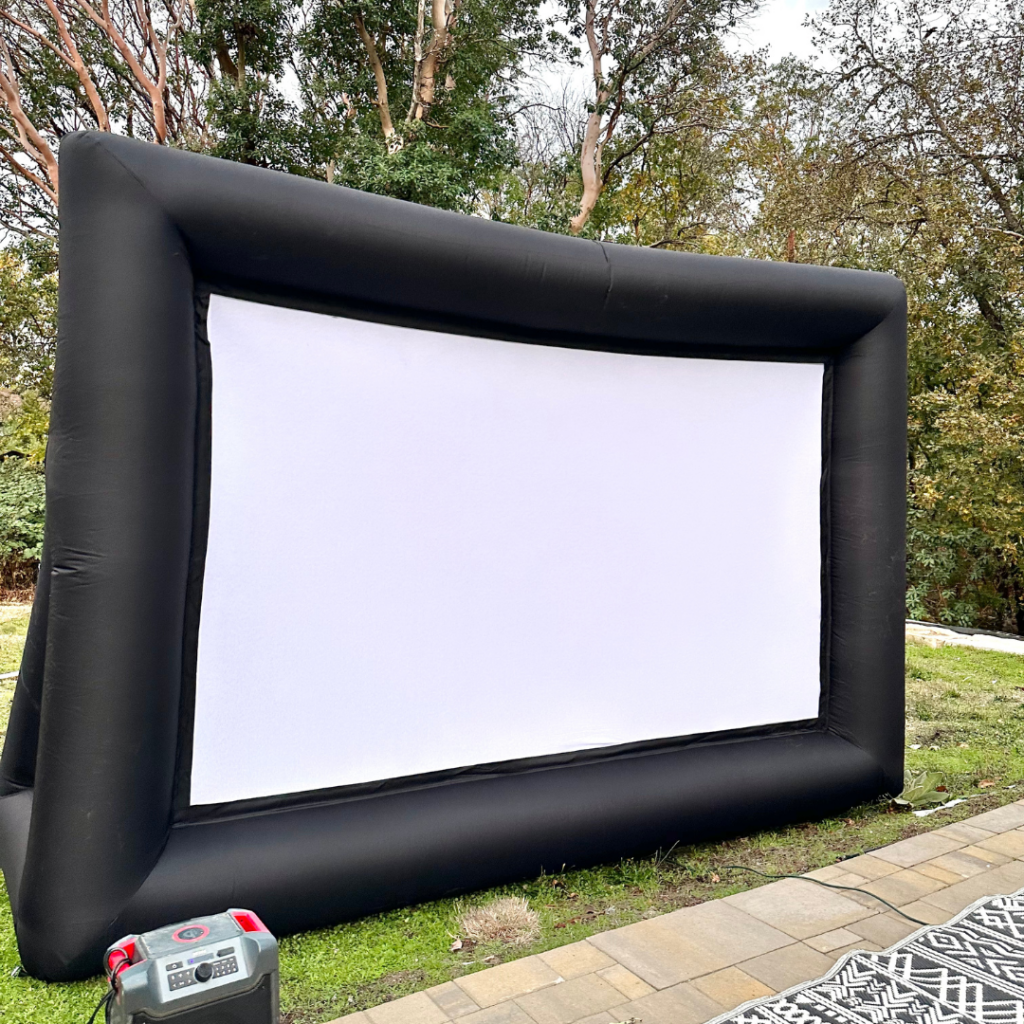 Inside, everything was ghost-themed! We loved these ghost decorations: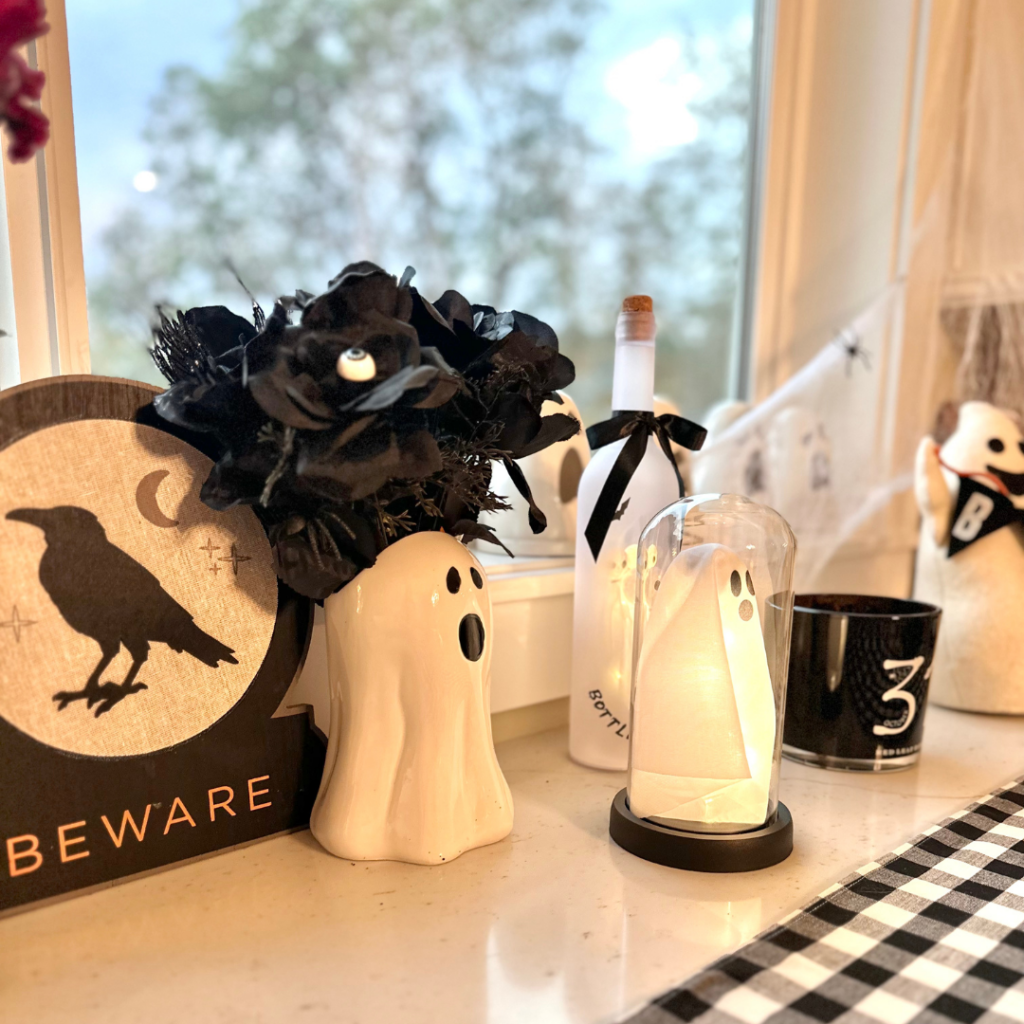 We also created a dedicated space for children, complete with crafts and snacks. This kids table was perfect for the kiddos to hang out at!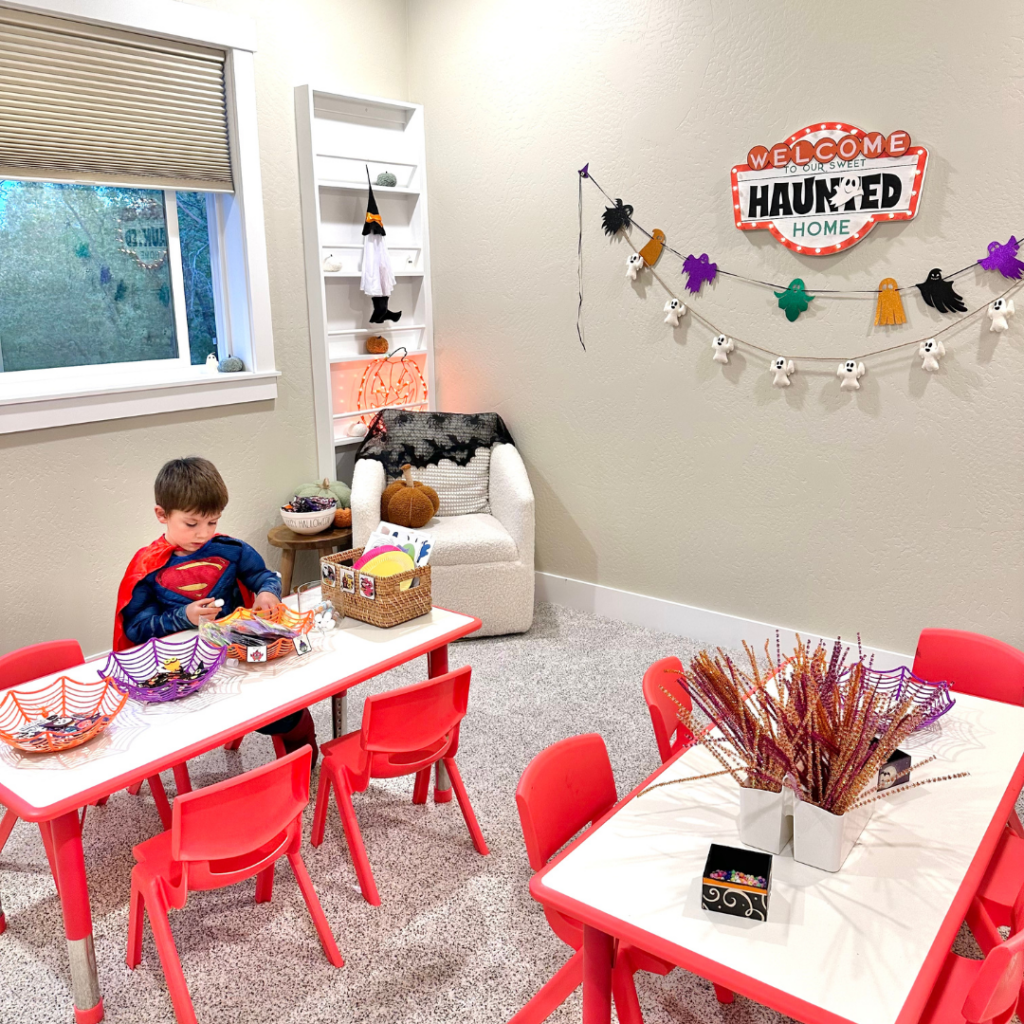 The upstairs bonus room was transformed into a haunted house and party rave room, and we added blow-up, light-up cubes to create distinct sections within the space. Guests had to venture through this haunted house to get any candy!
Here's some of the stuff we used to make this spooky space: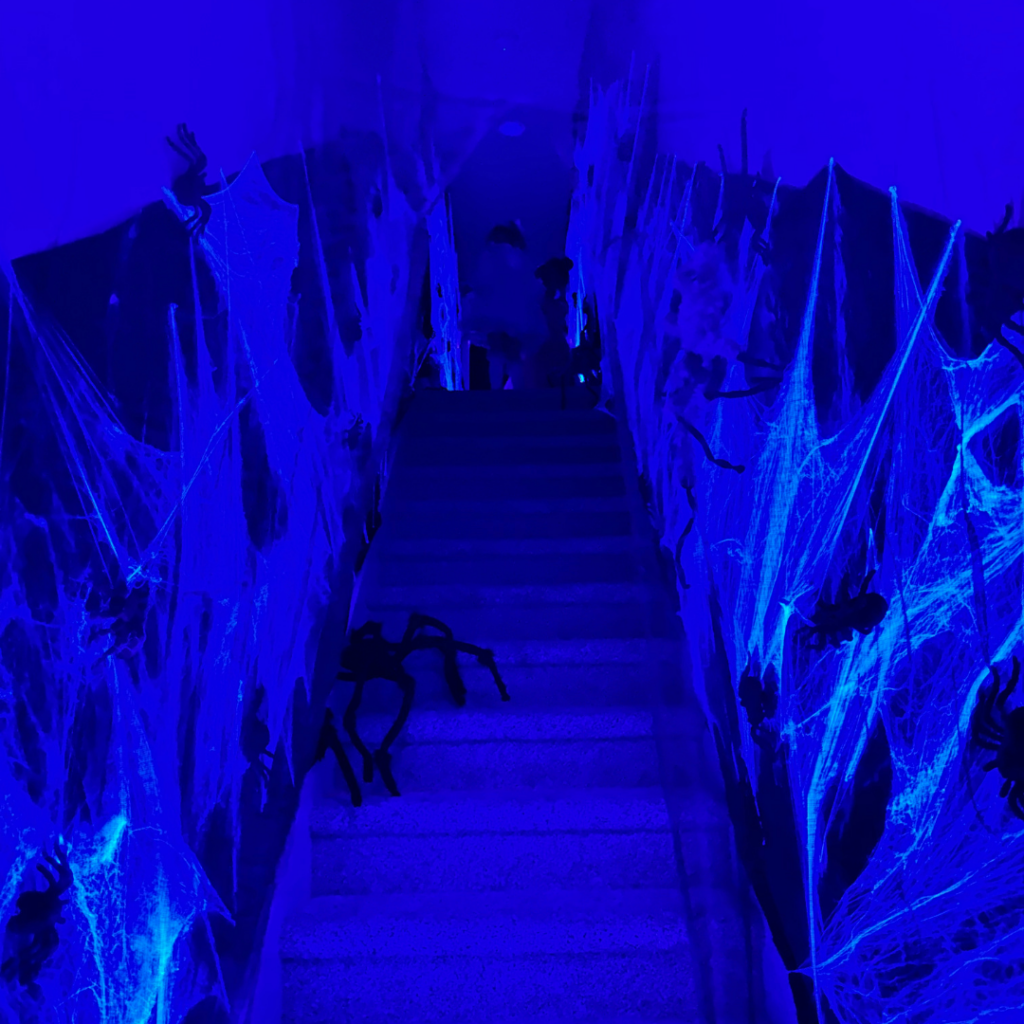 How to Plan A Halloween Party
If you're gearing up to plan a spooktacular Halloween party, here are some tips and ideas to ensure your event is a memorable and eerie extravaganza. Throughout the years, we've learned a thing or two!
Protect and Spookify Your Furniture: Cover all your furniture with white sheets. Not only does this protect your furniture from spills and stains, but it also adds to the spooky ambiance! You can take it a step further by hanging decorative bats in your decor or draping white sheets over paintings to create an even spookier atmosphere.
Candlelit Atmosphere: Create an eerie and enchanting atmosphere by placing candles throughout your party space. For a particularly chilling effect, consider placing candles in the bathroom with a bit of water and some floating objects. We love these battery-operated candles and use them for tons of events!
Eco-Friendly Tableware: Opt for eco-friendly tableware to reduce waste. Use paper plates and bowls, and invest in high-quality plastic cutlery that can be reused for future gatherings. To keep track of cups, provide reusable Solo cups and a sharpie to encourage guests to write their names on them.
Waste Management: To keep your party space clean and eco-conscious, bring in a large trash can for disposal and set up a recycling bin. Additionally, we always like to provide a separate bin for cutlery, ensuring that guests know where to properly dispose of them. Having separate containers for all the trash makes clean up SO easy!
Photo Booth Fun: You HAVE to have a photo booth so everyone can capture their fun costumes! We like using this one from Amazon. This adds a fun element to your party and allows everyone to have a keepsake from the event.
Entertaining Games: Incorporate Halloween-themed games to keep the party spirits high. For instance, we like playing a mummy game where people team up to wrap each other in toilet paper. The team with the best mummy creation wins a prize. This always results in a ton of laughs!
Halloween Party Snacks
Besides the potlock treats, we provided candy, snacks, and drinks for our guests!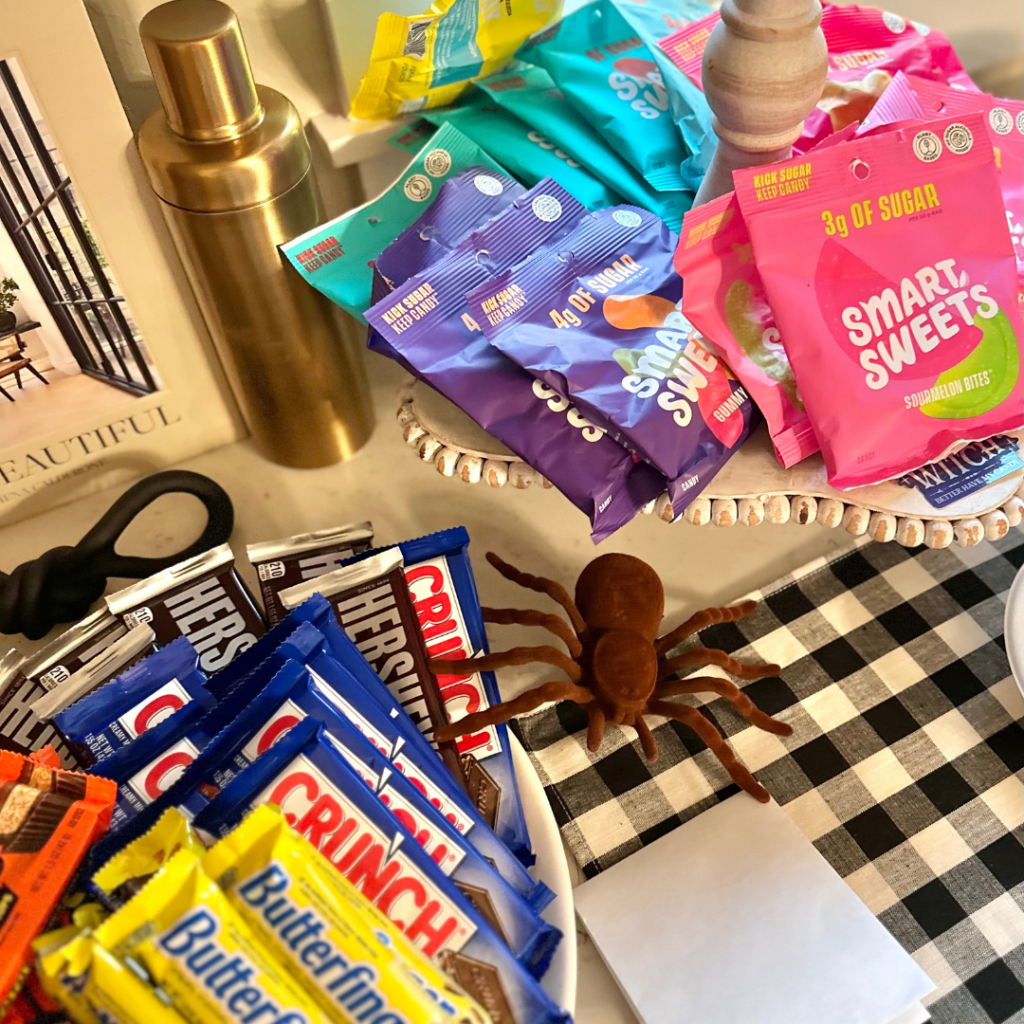 Halloween Party Decorations
Here are even more Halloween decorations we used for our party!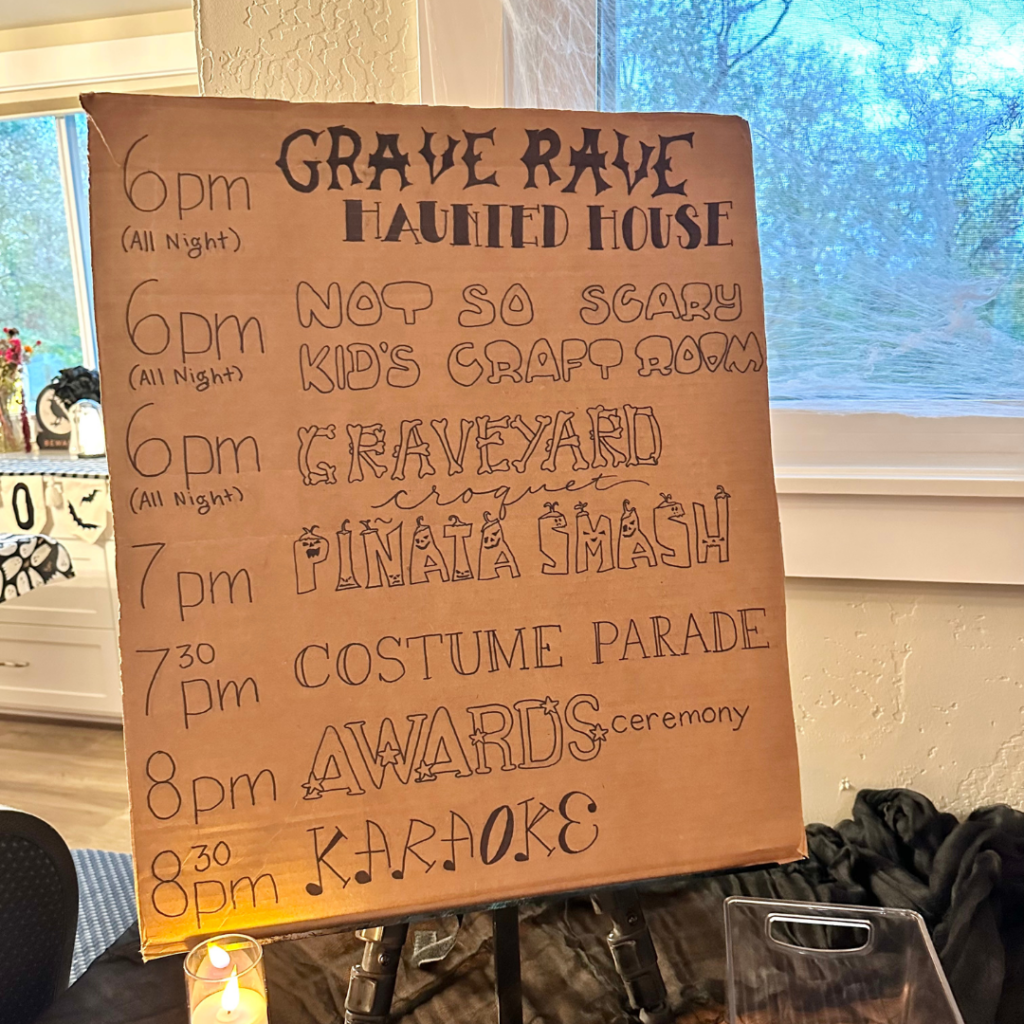 Our Halloween Costumes
Margaret found this Thing One costume and loved it!
Stetson pieced together a Princess Peach costume with these finds: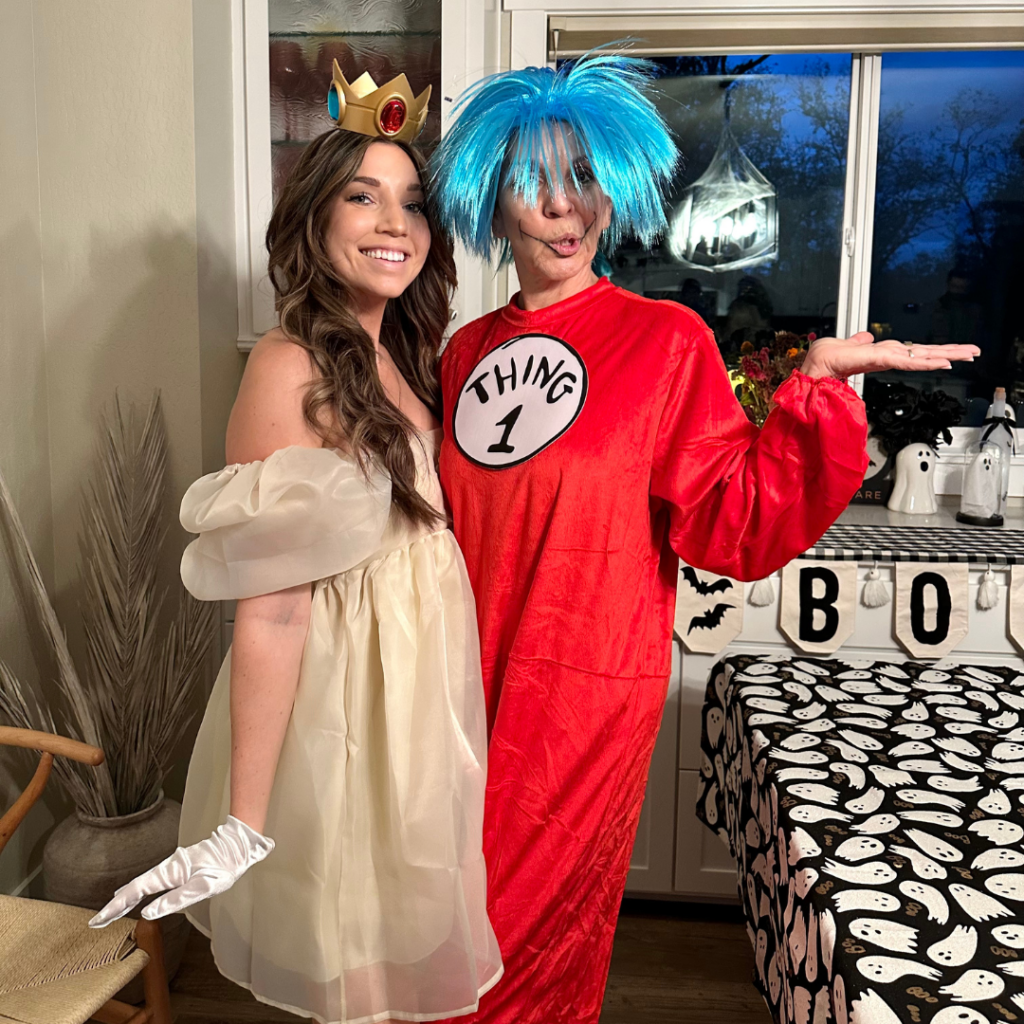 By following these tips and adding a few personal touches, your Halloween party is sure to be a hit. You're all set to create lasting memories for all your guests. Happy party planning!
Shop Halloween party supplies & decor here!
xoxo,
Margaret & Stetson
Read next: Thanksgiving Hosting Tips