Thanksgiving Hosting Tips: 15 Amazing Products for Thanksgiving Day!
If you're hosting Thanksgiving for a large group, the right products make a world of difference!! Here are some Thanksgiving hosting tips + the best products to host with! We've compiled various Thanksgiving tools: from kitchen gadgets, to tablescape ideas, we've covered it all. Wondering how to plan a Thanksgiving party? Consider this a host's Thanksgiving checklist!
Our favorite Thanksgiving tradition is to spend the Wednesday before in the kitchen, making more pies than any family could ever possibly need. We make them from scratch! Apple pie, cherry pie, peach pie… it's a super sweet (pun intended) time with our family. Our favorite flour to bake with has always been Bob's Redmill Flour!!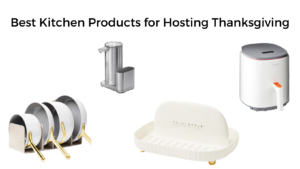 High-Quality Cookware
Hosting the best Thanksgiving wouldn't be complete without high-quality, nontoxic cookware! We're obsessed with Caraway's ICONICS Cookware Set in white. These nonstick pots and pans are easy to wash, safe for your family to enjoy, and look beautiful while you cook with them.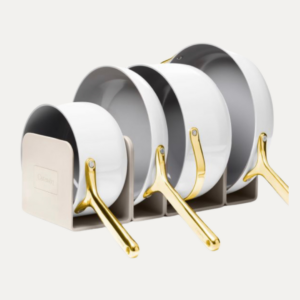 Air Fryer
If you don't have an air fryer yet, this Cosori Air Fryer is our favorite! It can help you cook food for tons of people super quickly and easily.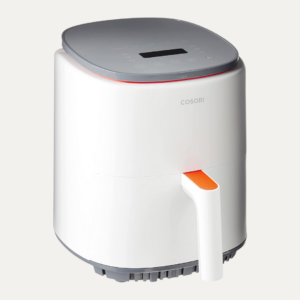 Lid Holder & Spoon Rest
With so many different dishes to cook up, make sure you have a clean designed spot for all the spoons, spatulas, & lids being used. This one from Amazon is dishwasher safe and comes in multiple colors.

Bag Sealer for Leftovers
If you're cooking Thanksgiving dinner for a large group of people, you probably don't want to be stuck with all the leftovers. We love this QVC Bag sealer for leftovers that comes with bags so you can easily distribute leftovers to your family!!

Food Storage Set
These non-toxic ceramic-coated glass containers come in six colors to choose from! You know we're all about keeping our kitchen cute and organzied so this Caraway Food Storage Set is our dream. This set includes the food containers AND an organizer so you can kiss cluttered cabinets goodbye.

Liquid Soap Sensor Pump
For the piles of Thanksgiving dishes, we recommend this Simplehuman hand soap sensor pump! One less thing to think about when you clean up after a delicious dinner.

Dishrack
This Simplehuman steel frame dishrack is a game changer when it comes to keeping a tidy, clean kitchen! Not only does it come in two colors – grey or white – it also comes in two sizes: standard or compact. We love how elegant it looks while sitting on the counter.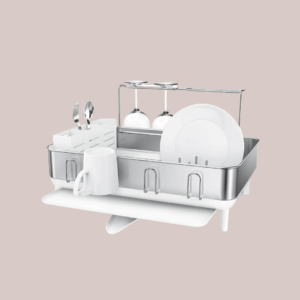 If you're wondering how to host the best Thanksgiving, you definitely can't skimp on the decor, especially the tablescape!!
Woven Placemats
For a neutral boho vibe, we love these woven placemats. They're perfect for adding some texture to your table!

Fancy Silverware
The details make all the difference for a beautiful Thanksgiving layout! We love this Amazon silverware set – it comes in different colors like gold, black, and rose gold.

Table Runner
This gauze table runner is the perfect base for your Thanksgiving tablescape. It comes in several colors, but the neutral one in particular is super versatile to reuse for other events you're hosting!

Champagne Flutes
Your guests will definitely want to cheers to your amazing hosting skills, right?? These champagne flutes are dishwasher safe and made with super high-quality crystal. Cheers!

Ceramic Dinner Plates
These dinner plates are the perfect size to pile up with turkey and mashed potatoes! Not only are they dishwasher safe, they'll look amazing set out on your table. This set comes in several colors, but the vanilla white color is our favorite!

Candlelight
Candles are the perfect way to set the ambiance and add an elevated vibe to your Thanksgiving party – so we found a safe alternative! These flickering LED, battery-operated candles are seriously one of our favorite elements for any holiday party we host.

Linen Napkins
These pure linen cloth napkins are not only practical, they are BEAUTIFUL.

Charcuterie Board
A Thanksgiving tablescape wouldn't be complete without a charcuterie board! This super cute charcuterie board is perfect to set out any appetizers for your guests to snack on before dinner.

Happy holiday hosting, friends!
We're so thankful for all of you in our Everything Envy family.
If you enjoyed this read, check out Choosing the Right Products to Organize Your Pantry. Happy Thanksgiving!
Save this article to Pinterest so you can find it later: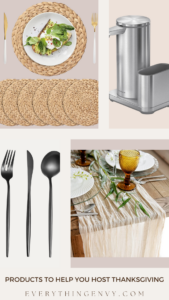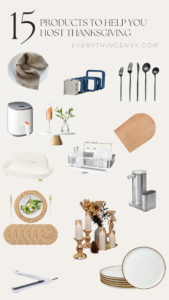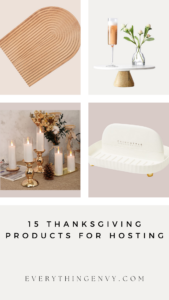 Thanksgiving Hosting Tips: 15 AMAZING Products for Thanksgiving Day!
xo, Margaret & Stetson