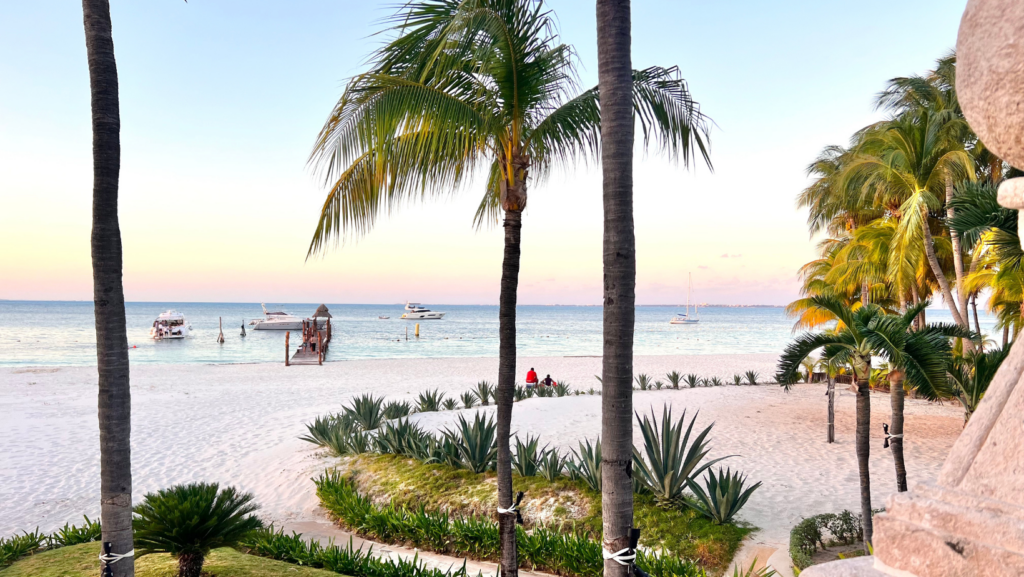 Amazon Travel Essentials & Spring Break Stories!
Here are the best Amazon travel essentials & how to pack for spring break! These unique travel accessories are so helpful as you prepare for your next adventure. For spring break this year, Stetson went to Cancun and Margaret went to Disneyland!
Prepare for your trip with this travel checklist!
Stetson's Spring Break in Cancun
I stayed at this beautiful Airbnb in Cancun, Mexico right on the beach! Our place was like its own mini paradise and came with its own staff, huge pool, and hot tub. I spent most of the week relaxing in the sun and eating delicious Mexican food from a local mom-and-pop restaurant nearby.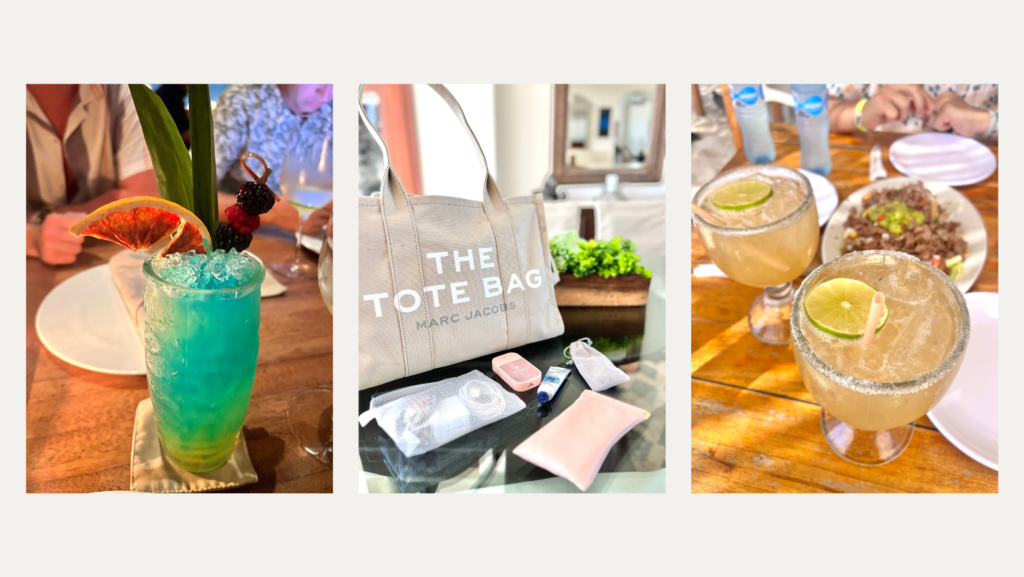 I loved using the tote bag while I was in Cancun! This trendy bag easily held all my travel essentials, and I definitely recommend it.
Speaking of travel essentials — have you seen these travel hangers?? They fold up so easily and help prevent your clothes from getting wrinkly. I also never go anywhere without my touchland hand sanitizer!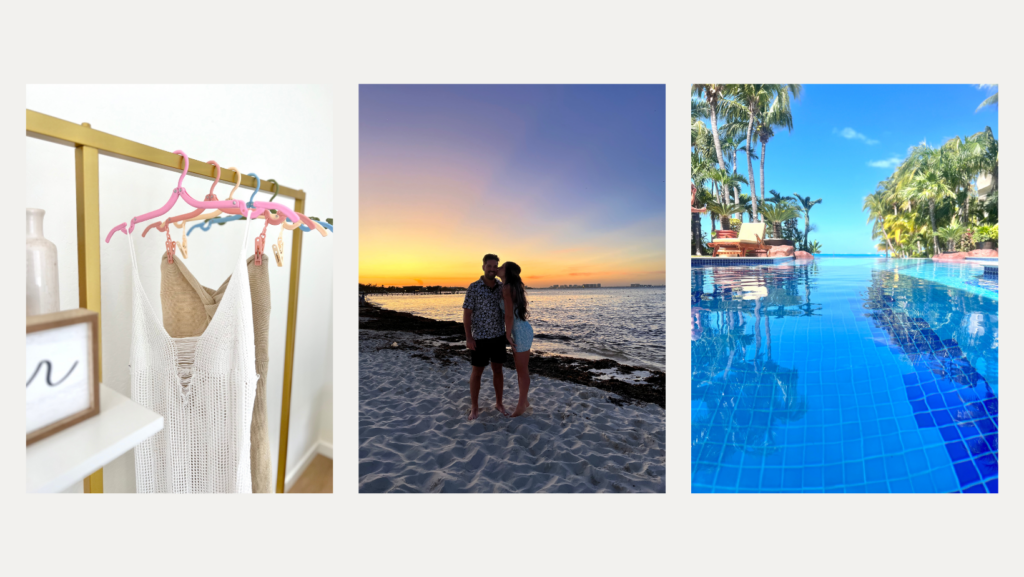 While in Cancun, we celebrated our 9-year anniversary of being together at one of the most beautiful restaurants I have ever been to called Taboo. After that, we headed downtown to get our drink on at Senior Frogs! Our night was so fun and consisted of body paint, dancing on stage, and lots of Don Julio 1942 tequila.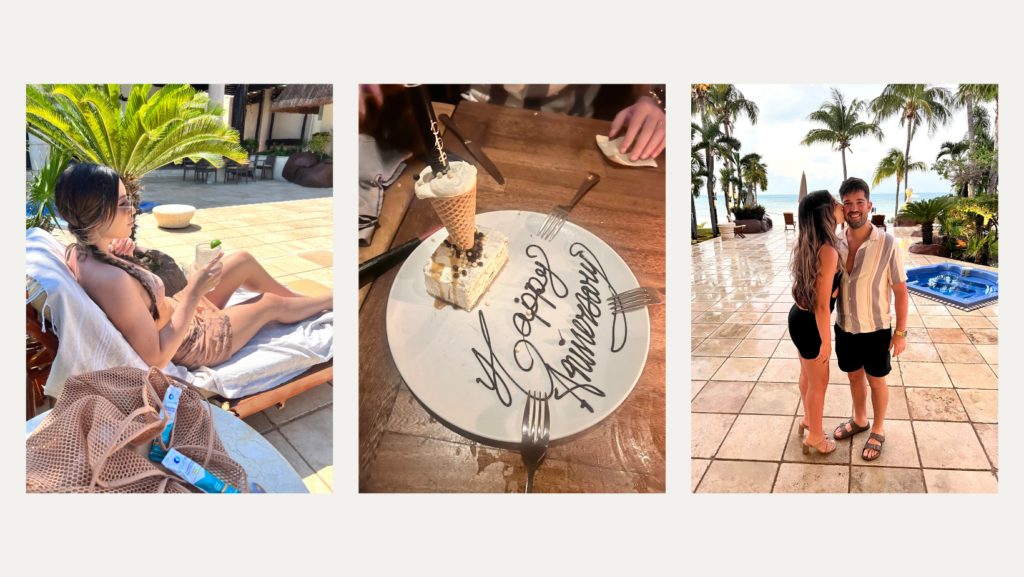 When I wasn't sipping margaritas, I was loving my Liquid IV. With all the sun and drinking, these helped me stay hydrated!
One of the biggest highlights of the trip was going jet skiing. This was only my second time going and it was a blast!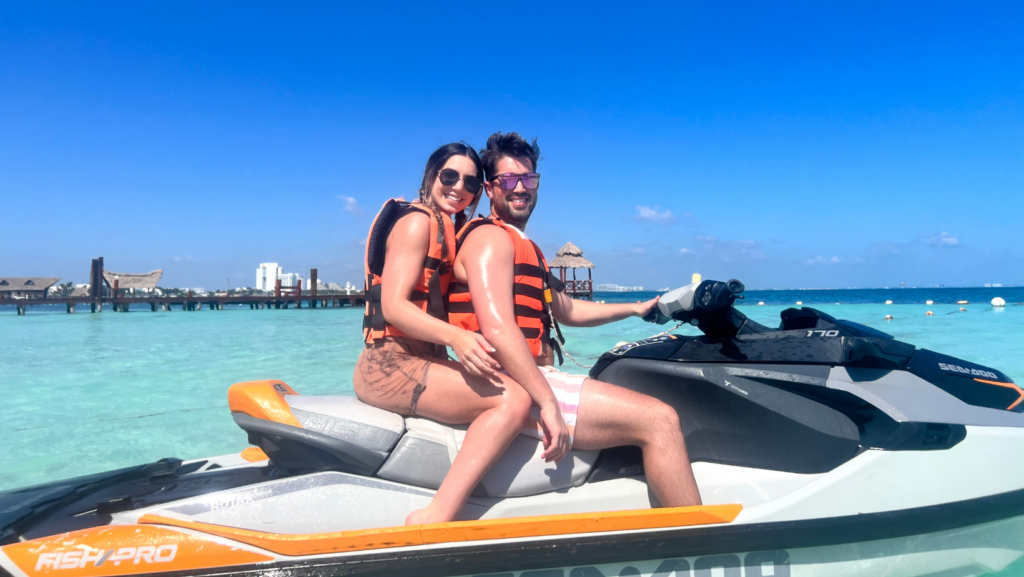 Margaret's Spring Break at Disneyland
My family trip to Disneyland was full of tons of sweet family time! While we had the time of our life, our trip didn't start off that great…. On our road trip down to Anaheim, our car got broken into while we spent the night in Stockton!
Some really nice strangers helped us patch up our window so we could drive — it was a magic moment of kindness! Later in the week, we found a company to fix the window. Thankfully we did not let this setback ruin our trip at all!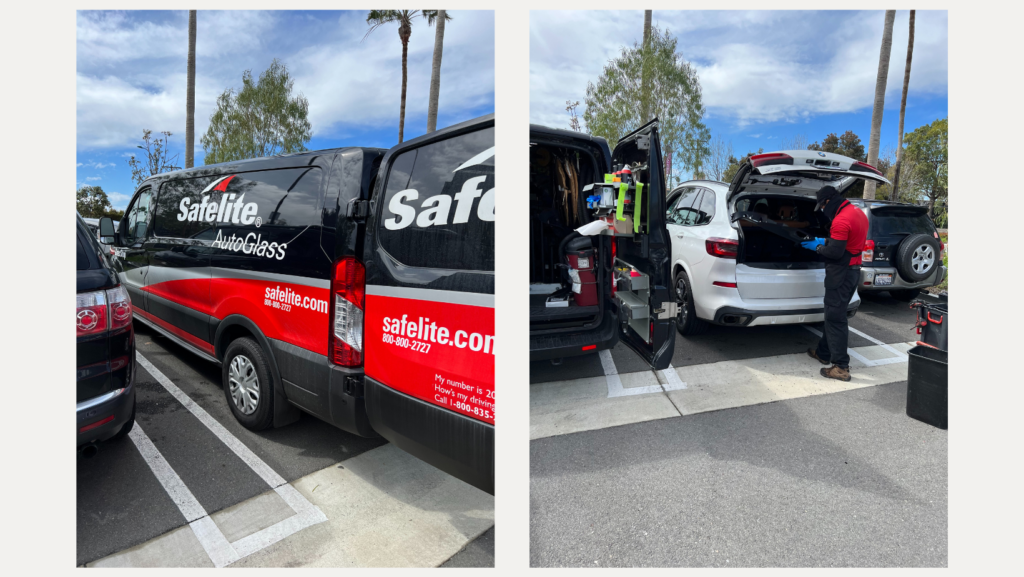 After our long and stressful drive, we enjoyed a yummy dinner at the Jazz Kitchen in Downtown Disney.
We stayed at the Element Anaheim Resort and Convention Center and loved it! I had a beautiful corner room with a kitchen, a view of the Disney parks, and it was just a 10 min walk to Disneyland. If you're planning a Disney trip, definitely prepare to walk a lot! My Adidas tennis shoes saved my life. Even after four days of walking around Disney, my legs and feet didn't hurt at all!
By the way, don't you love these vintage square cat eye sunglasses?? They were the perfect staple for the long drives and days spent in the California sun. And if you don't want to wear them, they fit perfectly in this fanny pack!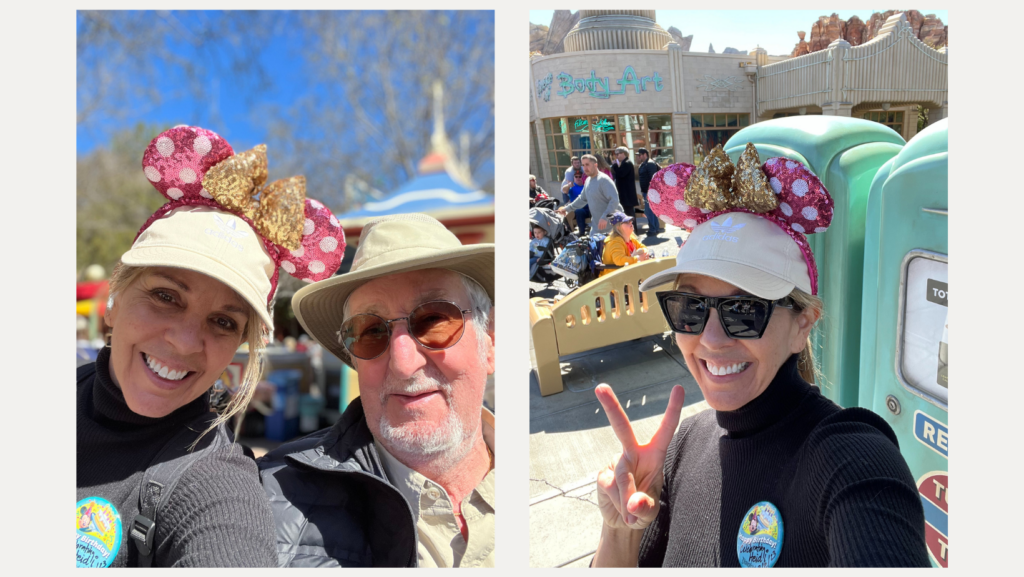 During our late evening at California Adventure, we got a one-pound pretzel. When I first saw it, I thought it was a prop. We had never seen one so big!
While in southern California this Adidas hat was perfect for keeping my face out of the sun! I'm all about sun protection — my favorite SPF for traveling is EltaMD Tinted Sunscreen.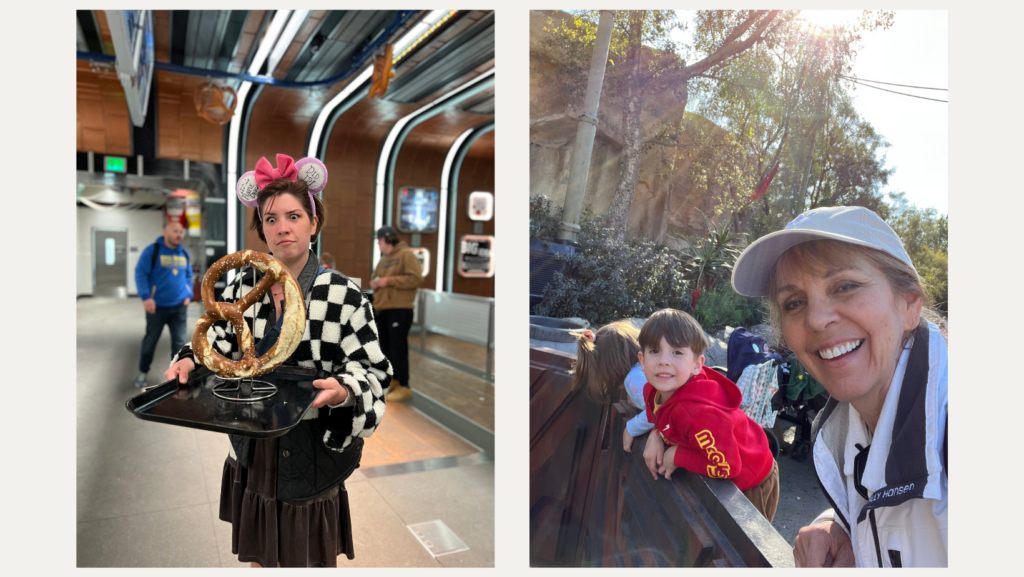 My favorite Disney rides were the Guardians of the Galaxy (we rode it twice back to back), Space Mountain, and Incredicoaster.
Can you tell I like roller coasters??
I also loved riding Autopia with my daughter Jackie and grandson Dominic! We took the kids on a ton of cute rides and it was amazing quality time making some memories. We especially loved the World of Color water show, it was beautiful!
Our favorite Disney restaurant was The Wine Country Trattoria. I got the salmon with an arugula salad and the most delicious tiramisu in the entire world! If you go to California Adventure, you have to check it out.
This black turtleneck (and this gold one!) is a suitcase staple for traveling. A few days in Anaheim were a little chilly so these helped me feel comfortable!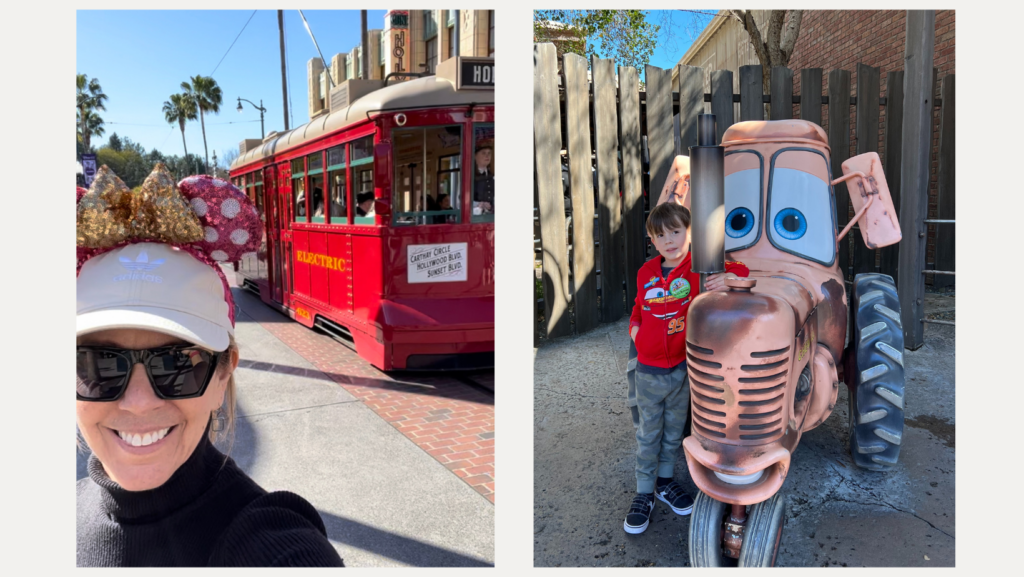 15+ Amazon Travel Essentials We Love!
We love this lightweight suitcase that looks like a cloud! It fits in the overhead bins, has spinner wheels, and has a TSA lock.
This makeup bag has several compartments to easily organize all your makeup and toiletries! It also has a cute quote on it: "Life is a journey. The simpler the happier."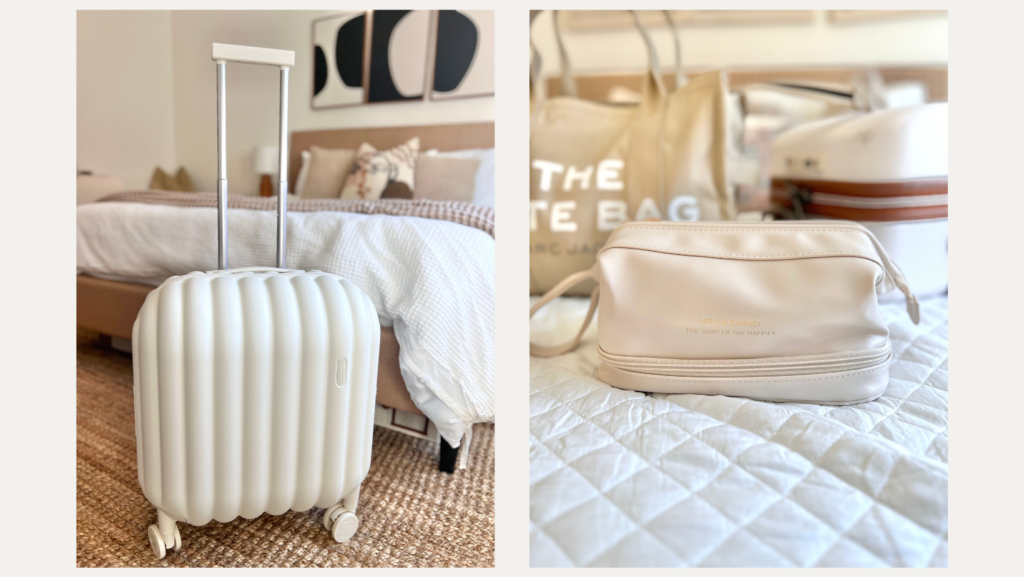 If you're planning a beach day, you have to look into this Lilly Pulitzer water resistant beach bag! It comes with a cute drink hugger, towel clips, and a waterproof pouch. It also fits our fav Bluetooth speaker, the JBL clip speaker, which is the perfect size for a beach day.
This big Paris Chatelet Hardside suitcase made it easy to pack and organize everything we needed for our spring break trips! Inside of it, we organized our stuff with waterproof bags like this, which made it super easy to see everything when we needed it.
More travel essentials we love:
Stetson's cute retainer case came with some tools for cleaning her retainer!
This tabletop light up mirror to easily do your makeup and skincare, even if your hotel has bad lighting.
This super cute mesh beach tote bag helps you pack everything you need for a day in the sun!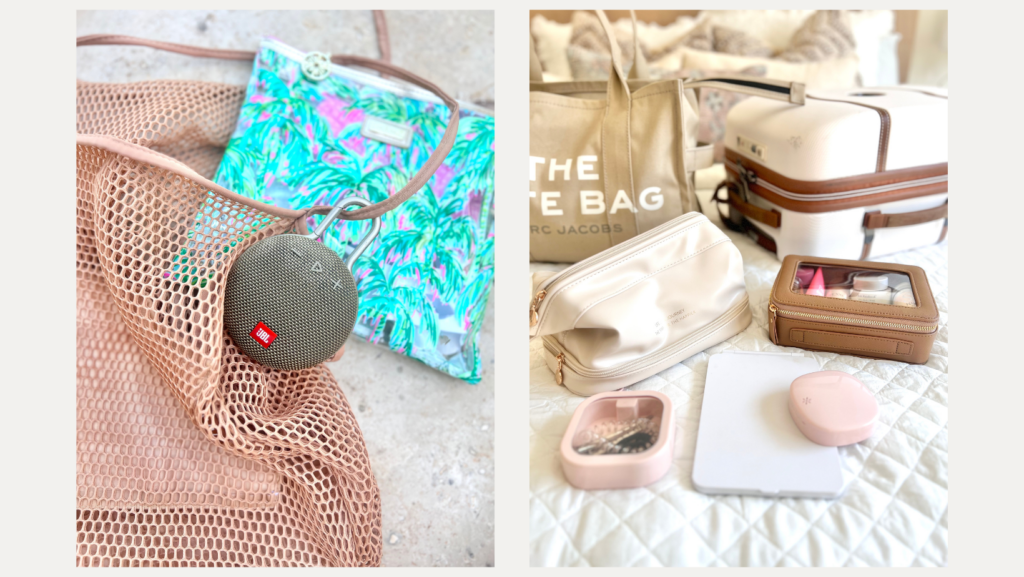 How cute are these Starfish cup holders?? Stetson used these all the time in Cancun.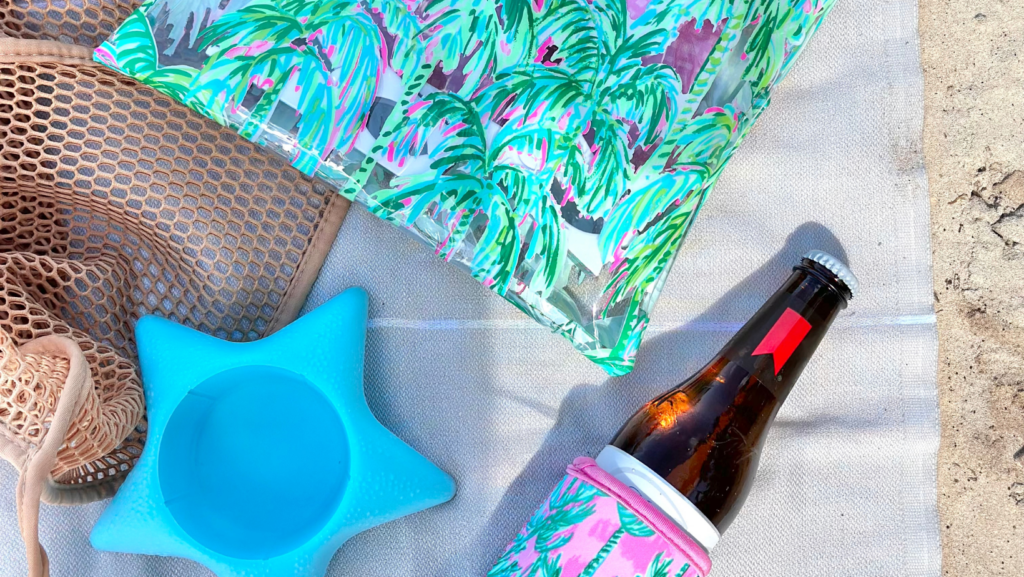 To organize all your toiletries, these are our favorite small organizers! And this clear toiletry bag makes it super easy to go through airport security with your small liquids.
If you have any larger liquids that aren't sold in travel-sized containers, check out these travel-sized bottles.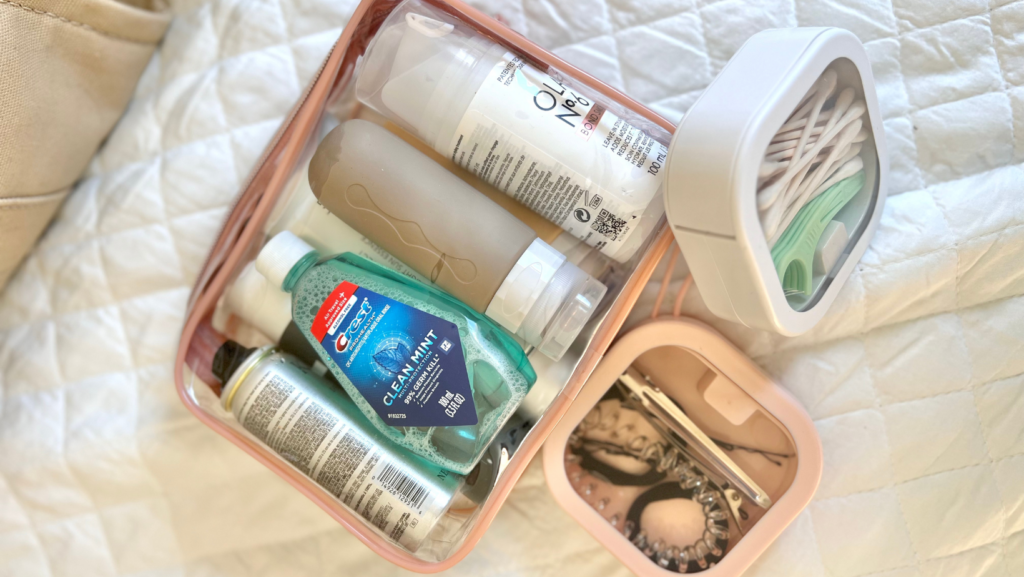 We love this hard travel case for our curling iron or hair straightener! And for the larger liquids you throw in your checked bag, these leak-proof sleeves help give you peace of mind that nothing will spill or get squeezed out.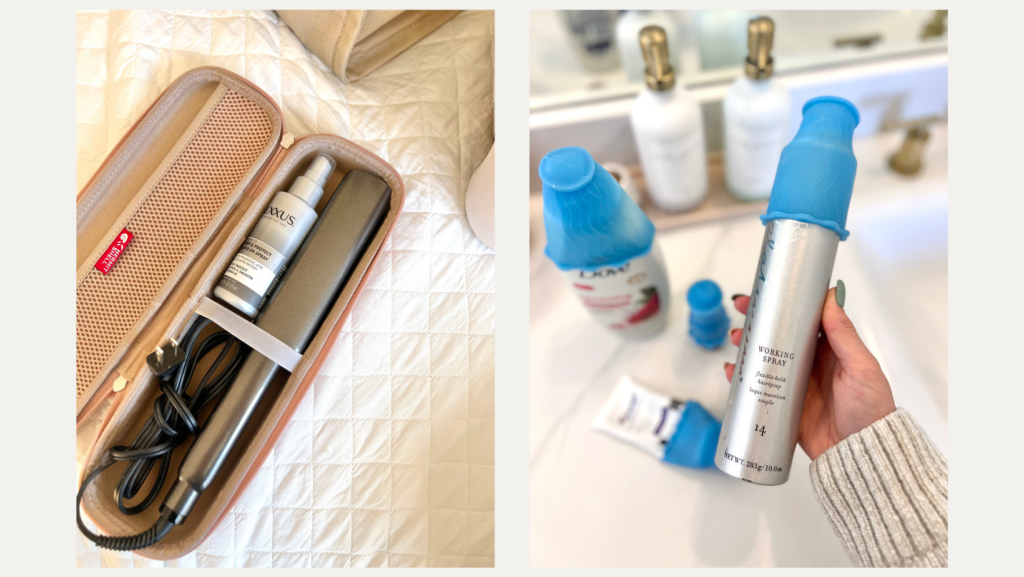 Keep your sunglasses safe from scratches in a leather sunglasses protector sleeve like this one.
It's basically inevitable that your clothes will get wrinkly in your suitcase, so we don't go anywhere without this mini, foldable handheld steamer!
If you're traveling anywhere with a hat, we love to save space with this magnetic hat clip.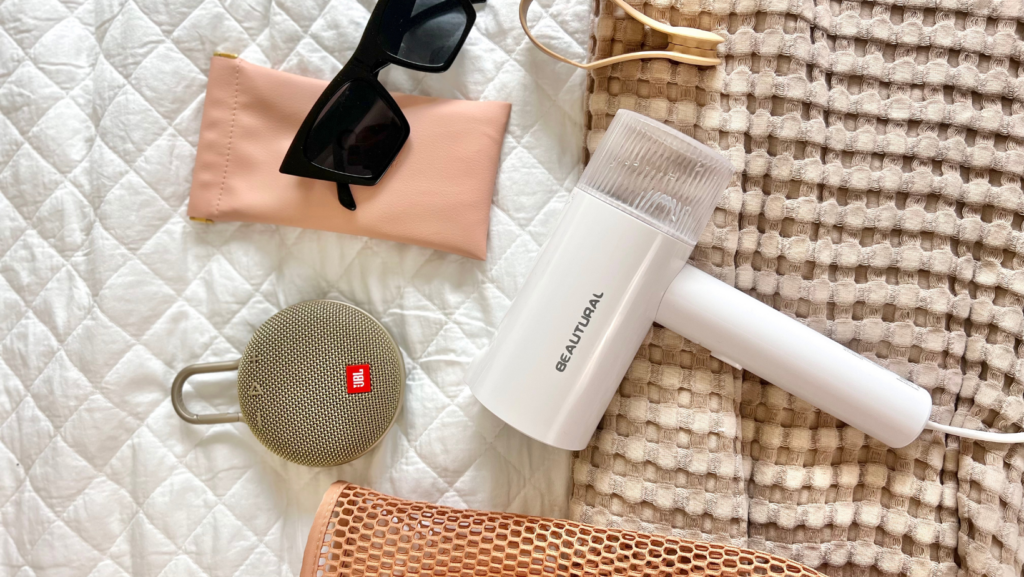 Prepare for your Spring Break trip with this Travel Checklist! Keep shopping for more travel essentials or beach must-haves.
xoxo
Margaret & Stetson